Discover Casio PX860.  In this Casio PX860 review; we will look at its features and specs to determine if it's worth the value.
PX 860 digital piano replicates the sound and key action of a quality acoustic piano. With this keyboard, you will be able to notice the achievements that have been obtained.

Find: Kawai KDP90
Casio PX860 Features
A Grand Revolution
Casio PX-860 is well designed and comes with an advanced AiR sound set which gives an extra level of realism, it includes grand piano lid simulation and sympathetic resonance.
This piano comes in a stylish design with a combination of new keyboard action and a powerful sound engine which offers a new level of an amazing experience.
Piano Sound
PX-860 provides the amazing sound of a nine-foot concert grand piano as it utilizes Casio's new proprietary sound source "AiR. The grand piano sound is carefully captured in stereo at 4 dynamic levels.
Key Action
It features Casio's 88-note Tri-sensor Scaled Hammer Action II keyboard which is balanced to match the weight and resistance across the range of an 88-note grand piano.
It also features simulated Ebony and Ivory textured keys for an incredible feel. Casio PX 860 action has 3 sensors that aid in capturing the dynamics of a performance with unmatched speed and accuracy.
Powerful Features
Casio PX-860 offers an impressive 256 notes of polyphony and a selection of 18 instrument tones.
The tones include stereo string ensembles, basses as well as electric pianos which are derived from Casio's award-winning PX-5S.
It also provides split and layer capability which allows you to play bass in your left hand and have 2 layered tones in your right. The Duet mode splits the keyboard into 2 equal ranges, enabling two people to play at the same time.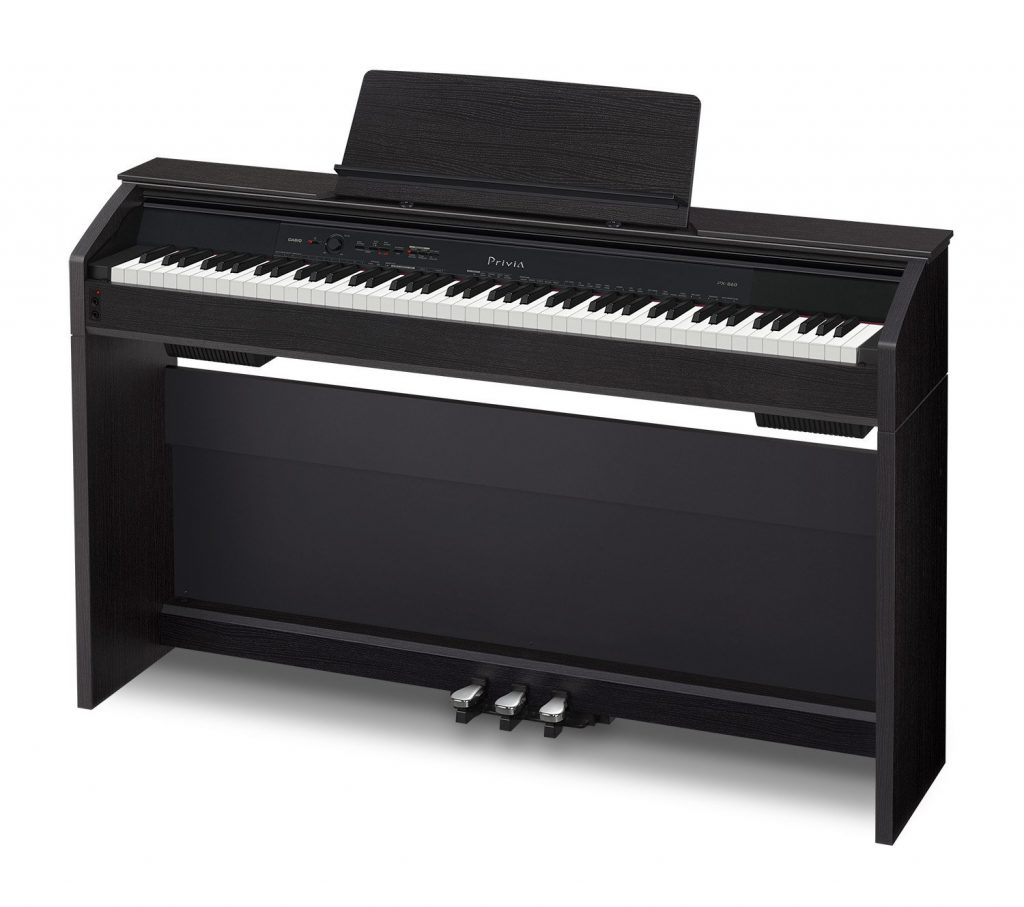 Check Price on Amazon >>
Casio PX-860 Specifications
Number of sensors: 3
Hammer Action:  Scaled Hammer Action II " Tri-sensor Scaled Hammer Action Keyboard II "
Key surface finish: Simulated ebony and ivory keys
Stabilizer: Yes
Off Velocity: Yes
Touch Sensitivity: 3 sensitivity levels, off
Max. Polyphony: 256
Number of Built-in Tones: 18
Number of direct tone select buttons             : 3
Duet Mode: Yes
Layer: Yes
Split: Yes
Octave Shift: Yes
Hammer Response: Yes
Damper Resonance: Yes
String Resonance: Yes
Sustain Samples: Yes
Lid Simulator: Yes
Key-Off Simulator: Yes
Hall Simulator: 4 Types
Chorus: 4 Types
Damper Noise Enable: On/Off
Music Library: Yes
Number of Preset Songs:        60
Number of User Songs:          10
Concert Play:              Yes
Number of Preset Songs:        10
Lesson Function:         Part ON / OFF
Metronome:     Yes
Recorder:       Real-Time Recording
Number of Tracks/Songs:       2 Tracks, 1 song
Audio Recording/Playback:    Yes
Audio Recorder Volume:       Yes
Pedals:             Built-in 3 pedals
Half-Damper pedal Operation:           Yes
USB port (to Host): Yes
USB flash drive port:  Yes
Dimensions: 53.8″ x 11.8″ x 33.0″
Weight: 78.3 lbs (35.5kg)