Discover Nord Stage 2 Review. On this page, we are going to look at Nord Stage 2 and see what makes it tick, what makes it the best choice among stage performers.
This Nord Stage 2 digital keyboard is a darling to many performers. It comes with many different sliders and dials to give you a limitless variety of audio adjustments. You will love this piano once you set your eyes on it. It is one of the most powerful digital pianos available on the market for those seeking the best performance.
Piano
Key
Polyphony
Price
Nord Stage 2
73

76

88

40

40-60

18

Check on Amazon
Find: Roland RD-300NX
In this Nord Stage 2 review, we will go into Nord Stage 88 key piano to find out which features make the instrument great.
The Nord Stage 2 comes with many features that make it worth purchasing. The piano features Nord Sample Library, MIDI over USB, B3, and transistor organ engine from C2, and added memory. All in a remarkably user-friendly interface where all essential functions are just a button away!
Nord stage 2 keyboard represents a striking new look famous for the Stage series. It Utilizes the very latest sound generation technology in the three categories of Piano, Synthesizer, and Organ which are well combined with a well-thought-out user-friendly interface.

Find: Williams Allegro 2
Nord Stage 2 features
Piano Section
Advanced Vintage Electric Pianos
State-of-the-art sample-based Acoustic Pianos
Long Piano Release
Advanced String Resonance
Nord Piano Library compatible
Dynamic Pedal Noise through optional Nord Triple Pedal
Synth Section
Powerful Classic analog, FM, and Wavetable synthesis
Nord Sample Library compatible
Sample Playback
Master Clock
Arpeggiator
Organ Section
Classic Vox and Farfisa Organs Simulations
Advanced rotary speaker model
B3 tonewheel organ modeling
Draw buttons with LED bar graphs to give you an easy overview of active drawbar settings.
Global features
Single-function control knobs and instant visibility of current settings
Comprehensive Effects section
An external section that enables Nord Stage 2 to serve as a master keyboard
Expanded Live Mode with 5 locations
USB-MIDI
Three Models
Nord stage 2 keyboard comes in 3 models: Stage 2 HA76, Stage 2 HA88 which features the fully weighted Hammer Action keyboard, and Stage 2 SW73 which features a 73-note Semi Weighted Waterfall keyboard
Sound
Stage 2 has 3 sound-generating sections; Organ, Piano, and Synthesizer. They can all be used at the same time.
Piano
The Stage Two Piano segment features state-of-the-art sampling techniques; it captures the extraordinary nuances and real character of the individual source instruments.
It combines with intelligent String Resonance to reproduce the sound of the piano strings resonating at their fundamental or harmonic frequencies. The compatibility of Nord Triple Pedal adds Dynamic Pedal Noise to give you amazing realism.
Another new feature in Nord Stage 2 is the Long Release function. You get a longer release suitable for legato playing when it is activated. It reflects adjusting the damper tension in an acoustic or electromechanical instrument.
The Nord Triple Pedal provides you with amazing control of the mechanical noise during operation and also sostenuto and soft pedals.
Organ Section
This piano uses the B3 Organ model, which is the same as that one found in the highly praised Nord C2 Organ. This organ is based on the analysis of the signals from each of the ninety-one spinning discs inside several original instruments and painstaking work on understanding exactly how all the components interact with each other.
Find: Williams Legato
The Keyboard
The Stage 2 HA88 and Stage 2 HA76 feature fully weighted Hammer Action keyboards. This keyboard's response has been improved when playing fast and repeated notes.
Stage 2 SW73 features a 73-note Semi-Weighted Waterfall keyboard.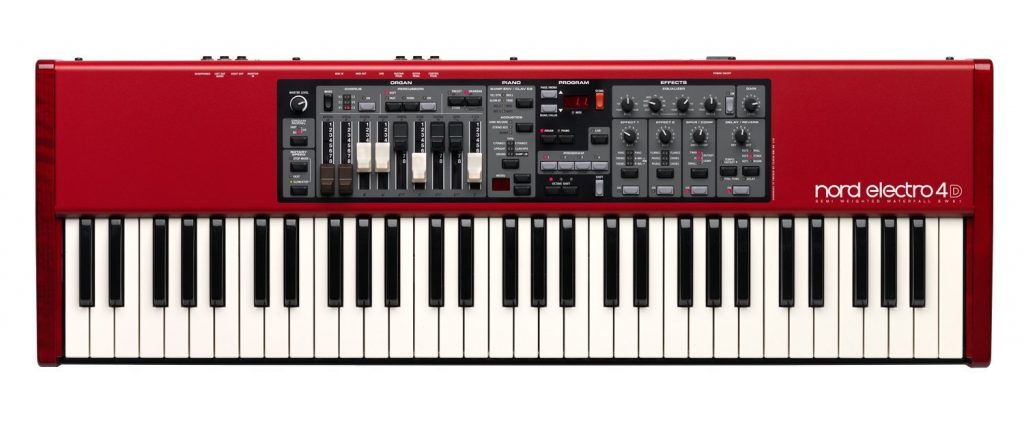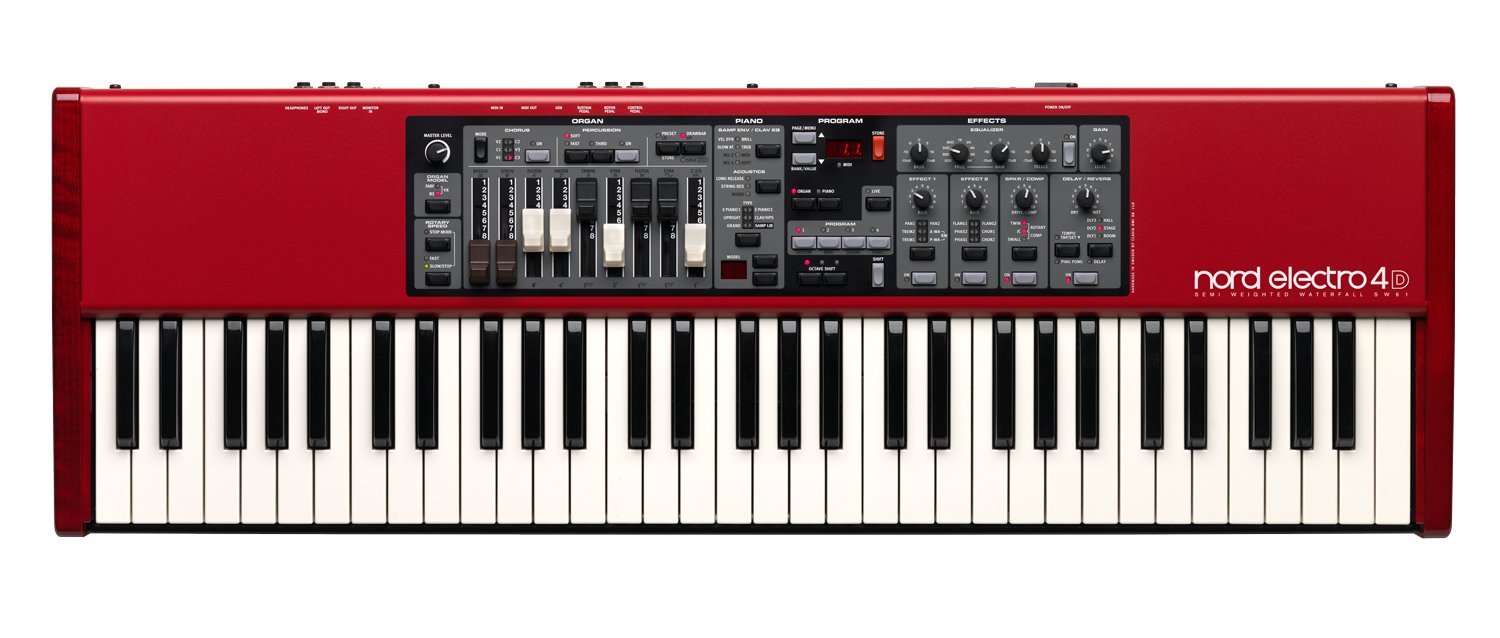 Pros:
Gives you full control
Comes with many useful features
Highly realistic key action
Great piano sound