Williams Allegro 2 Digital Piano: On this page, we are going to look at Williams Allegro 2 Review, what makes the keyboard worth its value, what specs and features it has, and much more.
The Williams Allegro digital piano is a very flexible digital piano that comes ready for you to start playing once you get it out of the box. The piano offers a lot of advanced features and settings. Its features make it the best for beginners, intermediate as well as advanced pianists.
Compared to its competitors, Allegro piano is very innovative in terms of features and its price is affordable. That's why many people love the Williams allegro 88-key digital piano.
Find: Best Roland Digital Pianos
Williams Allegro digital piano review
Sound Quality
Williams Allegro 88 digital piano sound quality is perfect. Many Williams Allegro reviews indicate that the reverb effect on the piano is just amazing. It gives the Allegro a wonderfully realistic sound that sounds more like the sound you get from the strings of a traditional piano.
If you are playing it at home or at the stage, Williams keyboard allegro has enough sound quality and it can produce any sound you would love. It has an amazing full-bodied sound even if it has a compact design.
Key Action and Realism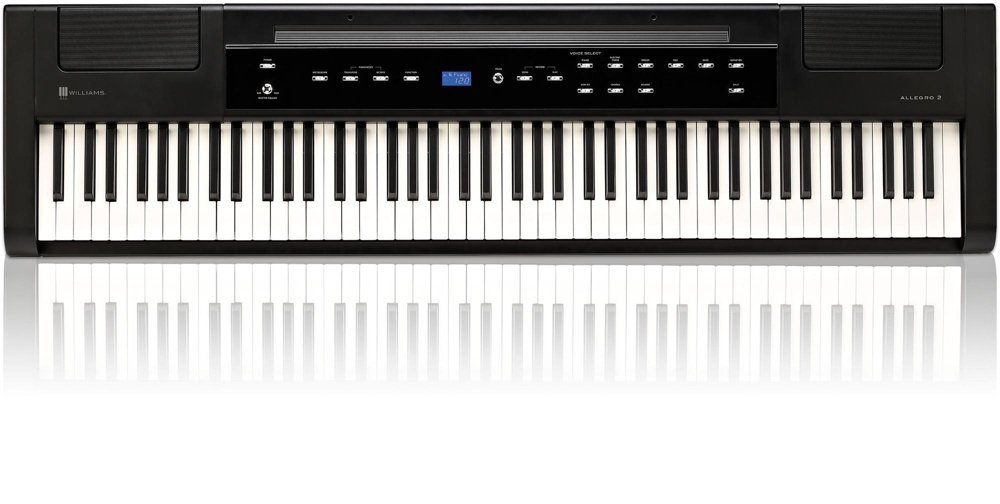 Williams Allegro digital piano key action is a masterpiece of its own kind. It is one of the most praised in this digital keyboard, this digital piano perfectly mimics the feel of a hammer striking strings. How wonderful is it to play this keyboard on Williams allegro 88-key digital piano stand? You will sound like a pro.
The keyboard is fully weighted and comes with sensitive keys that provide a satisfactorily realistic experience.
Find: Best Kawai Digital Pianos
More about Williams Allegro 2
Music rest
Williams Allegro 2 88-key digital piano
Owner's manual
Battery Operation Guide
The power supply and the sustain pedal in Williams Allegro 2 are sold separately. You can and some of these main accessories at a fair price.  If you prefer to play the piano on the go, you can use the six D-type cell batteries.
Williams Allegro 2 comes in a new design compared to the original Allegro. The design is derived from a complete aesthetic renewal process. It offers a more professional and striking look. It is lightweight but solid.
Its main interface is situated on the top panel. It includes the volume knob, power switch, Metronome, Octave, Transpose, LCD display, Function options, Song and Record modes, and much more button functions.
On the back panel, it contains the USB port for MIDI applications
Pros:
Key action
Fully weighted keys
Affordable