Looking for Korg SP170s Digital keyboard? Find out about Korg SP170s Review. On this page, we are going to look at Korg SP170s Specs, and features, and find out what makes it tick.
The Korg SP170s is well designed to give you everything you need in a piano in terms of sound quality and realistic key action. It is a beautiful and simplistic digital keyboard
Korg sp170s for Sale
This keyboard from Korg focuses only on the most important features you need in a piano-like key action and realistic sound.

Korg SP170s Features
Easy-to-use instrument
The SP-170 piano is designed in such a way that it is easy to use. Its simplicity has made it to be more popular among pianists. Its popularity came as a result of its focus on the pianistic essentials of sound and playing touch. The volume and power switch has been placed in a place that enables the user to operate the digital keyboard with ease.
The sound and piano play button has also been added.
Find: Best Yamaha Digital Pianos
Weighted Hammer Action
The New Natural Weighted Hammer Action keyboard is precisely weighted to reproduce an acoustic piano touch and feel. It also comes with 3 levels of Key Touch Control. This enables the keyboard response to be matched to nearly any playing style.
New Sounds
SP-170S features a duo of concert grand piano sounds. Each sound has been lavishly recorded with meticulous care. The many velocity layers are used to capture nuances of playing dynamics which allows the instrument to respond expressively to every delicate touch.
Other sounds such as harpsichord electric piano and organ have also been provided.
Reverb and Chorus effects
It comes with selected Reverb and Chorus effects which add an extra dimension to the SP-170S's sound.
Speakers
The SP170S comes with a newly enhanced speaker system. It has 2 oval speakers that generate enough sound that will amaze you. The design is also done in such a way that it improves the resonance and tone, giving you a more powerful sound.
Dual headphone outputs
It has 2 headphone jacks that allow two people to enjoy the sound at the same time. Ideal for playing duets or sharing songs with a friend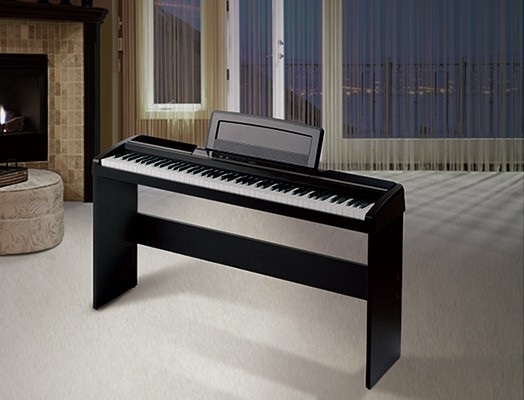 More about Korg SP170s
Simple in design
Quality sound
Piano Play button that instantly recalls the main piano sound
Ten internal sounds
2 skillfully sampled concert grand piano sounds
Natural Weighted Hammer Action
The Key Touch Control
Improved speaker quality
Reverb effect
Damper pedal
Available in either black or white to complement any environment
Find: Korg Sp170s Power Supply
Korg SP170s Specs
Available Finishes
White (SP170SWH)
Black (SP170SBK)
Keyboard
88 notes (A0–C8), Natural Weighted Hammer Action (NH)
Touch Control
Three Level(Light, Standard, Heavy)
Sound System
Maximum Polyphony
120 notes / 60 notes (Stereo)
Sounds
Effects
Demo Songs
MIDI
Amplifier
Speakers
10cm x 5cm Oval x 2; Bass Reflex housing
Power supply
Power Consumption
Dimensions
(W x D x H) 1,312 × 325 × 144 mm / 51.65″ × 12.8″ × 5.67″
Weight
Korg sp170s Price
The Korg SP170s is well priced. You will not believe the Korg SP170s – 88 – Key Digital Piano price and the features it comes with