Discover Casio Privia PX-130. In this Casio Privia PX 130 Review, we are going to look at what makes it tick, and what makes the PX-130 better than the others, We will highlight its features and specs.
The Casio PX-130 is a very popular digital piano. It comes with great features from its sound to the key action. It redefines the digital piano category; it features the grand piano samples and the Tri-Sensor 88-note scaled hammer action keyboard. Casio has really paid attention even to the smallest details of the piano.
Casio PX 130 Review
Casio Privia PX-130 can be used at home, school, church, or the stage.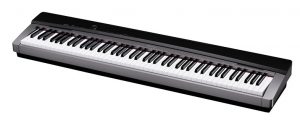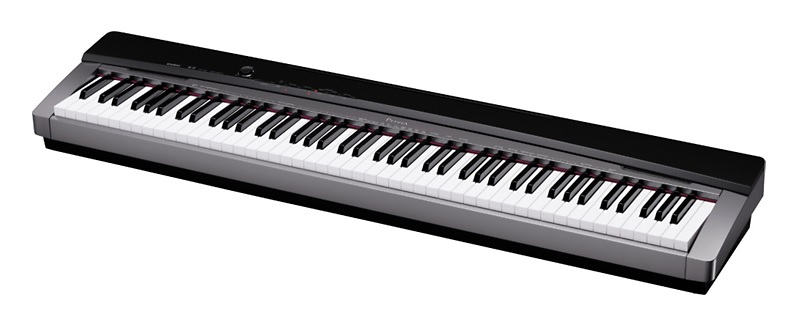 Casio Privia PX-130 Features
Sound Quality
Casio Privia PX-130 grand piano sound delivers an unparalleled level of realism and expression. Four different levels of stereo piano samples have been integrated with Casio's proprietary Linear Morphing System which is used to create the seamless grand piano sound produced by PX-130. When the dampers are raised via pedal using Acoustic Resonance DSP the PX-130 simulates the sound of open strings.
Light Weight
The PX 130 was created to be lightweight and portable. You can carry it to work, home, or your place of practice. You can easily detach it from the optional CS-67 stand.
Key Action
Casio Privia PX130 features a Tri-Sensor 88-note scaled hammer action keyboard. After long manufacturing of keyboards, the Casio has been able to engineer an authentic piano touch that captures every detail and tone of your performance.
The scaled hammer action provides the feel, weight, and resistance of a piano without forfeiting the portability of the keyboard.
Advanced Technology
The PX-130 features 128 notes of polyphony; this is all you need as a pianist.  With this, you are able to play even the difficult musical passages and the ability to layer sounds.
In addition, the PX-130 can connect effortlessly to your computer via USB without the need to install drivers.
Find: Best Yamaha Digital Pianos
More about Casio px 130 review

Comes equipped with a high-quality set of speakers
The sound of the PX-130 is extremely impressive
PX-130 comes with 16 built-in voices
The voices can also be split or layered
It comes with a music library of 60 songs
The piano has inputs/outputs for USB
Has 2 connections for headphones
Contains a damper pedal
Two 8W speakers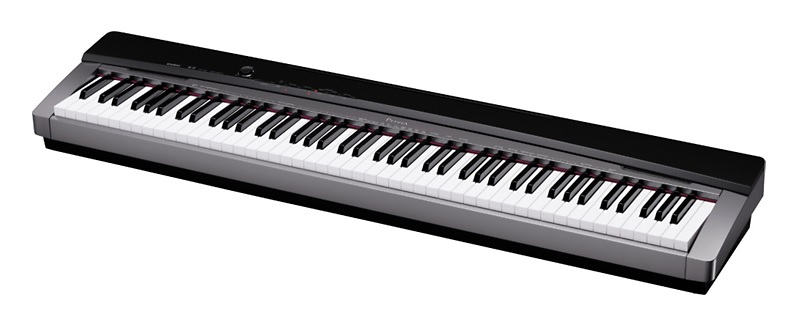 PX-130 Specs
Keyboard:           88 keys, weighted scaled hammer action
Sound Source: 4-level stereo samples, Linear Morphing System
Acoustic Resonance:      Yes
Polyphony (maximum):               128
Tones    16:
Reverb:                4 types
Chorus:                4 types
Brillianance:        -3 to +3
Layer  (with variable balance):   Yes
Split:      Yes
Duet Mode:       Yes
Metronome:      0,2,3,4,5,6 beats
Transpose:          -12 to +12 semitones
Tuning Control: A4=440Hz +99 cents
Temperament(preset scale) :     equal temperament + 16 scales
Recorder:            1 Song, 2 Tracks
Preset Songs:    60
USB Storage (utilizing PC):           Yes
Speakers:            (13cmx6cm) x2
Amplifier:            8W + 8W
Terminals
USB to Host (USB MIDI):              Yes, supporting XP, Vista, Mac
Damper (Sustain):          Yes
Connector for SP32 (3 Pedal Units):          Yes
Headphones:     Yes x 2
Accessories
AC Adaptor:       Yes(AD-A12150LW)
Music Stand:      Yes
Pedal:   Yes, SP-3
Score Book:        Yes
Dimensions and Weight
Unit size – W x D x H:       52.05" x 11.26" x 5.31"
Unit weight in pounds:  24.7 lbs
Boxed weight:   33.52 lbs
Pros:
Has an ultra-realistic key action.
When you play the digital piano you feel like an acoustic piano
It has quality sound
Cons:
It's a bit more expensive than other keyboards
Casio Privia px 130 Price
Finally, it's time to check Casio Privia px 130 prices. Check at the price of  Casio px 130 below
Conclusion
PX-130 digital piano is the top-rated keyboard with a key action and sound quality. If you are searching for a versatile and most realistic keyboard Casio Privia PX-130 is your choice.