Looking for Char-Broil Performance 475 Review? The char broil performance grill is a well-designed grill that will enable you to prepare that delicious meal.
The Char-Broil is a famous brand that is known to offer durable grills that are loved by many customers and able to compete with other grills in the market.

Charbroil performance 475 reviews
Since 1948 Char-Broil has been one of favorite America's grill brands, though it looks more like a new brand, coming up with amazing features which are durable and matching the current state-of-the-art technology. The company knows what cooks better, and what works best to produce that delicious meal.
Performance 475 from Char-Broil has made grilling easy. You will be able to grill great food for your guests and family. The grill is manufactured to be affordable. It is one of the cheap grills on the market. The grill offers enough cooking surface area that can cook enough meals for an average family.
It comes with four stainless steel burners which are built to last. The burners ensure there is enough heat coverage in a propane gas grill. This grill is able to deliver 36,000-BTUs of heat over the 475 square inches of primary cooking space area and 175 square inches swing away from the rack.
Comparing the price and the service it will over you. It will not dent your pocket.
Also find: Best Gas Grills
Char-Broil Performance 475 Key Features
Stainless Steel Burners and Heat Tents
The grill features four stainless steel top-ported burners. They are designed to be durable and to give you a long-lasting performance. The stainless steel burners are able to provide you with a wide temperature range depending on what you are preparing and precise control.
475 sq. inches Primary Cooking Space
The Primary cooking surface of Char-Broil Performance 475 features rust-resistant porcelain-coated cast-iron grates. It measures 25.6 inches wide x 18.5 inches deep providing you with enough space to prepare your food. It has enough space to prepare 20 burgers. This is an amazing feature as you are able to prepare food for the whole family in no time.
175 sq. inch Swing Away Warming Rack
This grill features a secondary cooking area – Swing-away warming rack. The secondary cooking area is best for toasting buns and preparing sides. The warming rack measures about 22.8 inches wide x 7.4 inches deep.
10,000 BTU Lidded Side Burner
The lidded side burner is best for preparing sauces or sides as you grill. It is designed to save you time as you prepare that delicious meal. When you are not using it, you can fold the lid so as to protect the burner. It also provides you with more working space or preparation space.
Fast and Reliable Startups
With just a push of a button, it is fast to start the grill. It features an electronic ignition system that provides reliable startups.
Durable Construction
Most parts of this grill are constructed of stainless steel to increase its durability and style. It is capable of withstanding all weather conditions. Parts made of stainless steel include the fascia, UFC, and Grill lid.
Durable Metal Side Shelves
The two metal side shelves on this Char-Broil Performance 475 offer increased durability as well as provide you with ample work and prep space.
Lid Mounted Temperature Gauge
The grill features a Lid mounted temperature gauge that enables the griller to control the heat when they are cooking.
Easy Cleanup and Mobility
Char-Broil Performance 475 Grill features 2 seven inch wheels that make the gill to be easily moved from one point to another. It is also very easy to clean as the removable grease pan makes the cleanup very easy.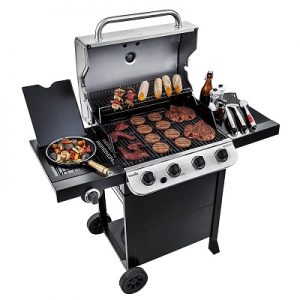 More about char broil performance 475
It is a 4-burner gas grill
It delivers 36,000 BTU's of heat across the 475 square inch cooking surface
The primary cooking surface measures 25.6-inches wide by 18.5-inches deep
It features porcelain-coated cast-iron grates that are rust-resistant and at the same time help prevent food from sticking
It is easy to clean
Feature a10,000-BTU lidded side burner
The four stainless steel top-ported burners are constructed to be durable as well as provide the best cooking performance
Has an electronic ignition system for reliable and fast startups with just a push of a button
Two metal side shelves for increased storage and prep space.
Pro's

Has Four burners in addition to a side burner that will provide you with a better cooking area for a lower end grill with considerable power
It is fast to ignite, this saves you a lot of time, as you will quickly ignite the grill and proceed with your cooking
Constructed from strong quality materials
Gives you value for money.
Durability
Easy to clean
Con's
The side shelves lack cabinet space
Does not come with many features to work with
Warranty
When you are looking at Char-Broil Performance 475, the manufacturer has provided a warranty for the product. This shows the manufacturer is serious about the product and has used quality materials or products.
When shopping for a grill, no matter how affordable or cheap the grill is, the first thing to look at is the warranty. This grill provides you with an amazing warranty that you can count on in case of anything.  The stainless steel burners come with a five-year warranty. This is so amazing! Five years! Yes, it is! Perfect warranty for you to prepare your food with ease knowing you are well protected.
The firebox and the lid, come with a two-year warranty while the other parts of the Char-Broil Performance 475 have one year warranty.
Final Word
If you are looking for a grill of a range of 200 dollars or the best grill under 300 dollars, then this one is good to try. The grill is well designed to provide you with the best features you can ever want when you are preparing your meals. It is best for the whole family. You will have an easy time moving it and cleaning it.
The grill is also well priced. In addition, it is built with high-quality products that make it long-lasting.