Find Roland F 120 Review below. Roland F-120is a SuperNATURAL Piano in a modern Cabinet.
F-120 is stylish and an ideal choice for piano enthusiasts who are looking for authentic sound and touch in a space-saving, a contemporary cabinet, and at an affordable price.
Roland F120 makes use of the Roland's acclaimed SuperNATURAL Piano engine, providing the ultimate piano sound and response. Its minimalist aesthetic design will blend into any home interior.
Roland F-120 is a piano that fulfills many wishes in piano players. It comes with many features found in higher models at an affordable price.

Roland F-120 Review 2020
In this Roland F-120 review, we are going to look at its features as well as other specs of the instrument
SuperNATURAL Piano engine
F120 brings a new level of authentic sound and natural performance with its SuperNATURAL Piano engine. It aids in analyzing the complex and ever-changing characteristics of concert grand pianos. It captures and reproduces the tonal variations based on the velocity of each keystroke.
With Supernatural, 3 key elements are noticeably enhanced: note decay, velocity response, and key-range behavior.
Slim Cabinet Design
Roland F-120 digital piano is a slim, stylish, compact piano. It can fit anywhere within your room. It comes with a unique folding-lid design which covers the keyboard. It also serves as a music rest when it is raised.
F120 is available in 2 stunning finishes: Satin White and Black
Ivory Feel-G Keyboard
The keyboard is fitted with an Ivory Feel-G keyboard which features Progressive Hammer Action. The F120 gives you an expression and performance that rivals that of high end pianos by combining the newest sensor technologies and Super NATURAL Piano sound engine.
Skill-Building Features
F120 Roland piano is more than a great, it is equipped with amazing features that will enhance your skills. For instance, Twin-Piano is designed for you to have side-by-side lessons or performances with a duet partner or a teacher. The twin piano feature enables the keyboard to be split into two sections, each covering the same octaves. You can easily hear what the teacher is hearing teaching and replicate the practice.
Also the left and right pedals can be reassigned to act as damper pedals for either side of the split keyboard. It also has a built-in metronome and recorder.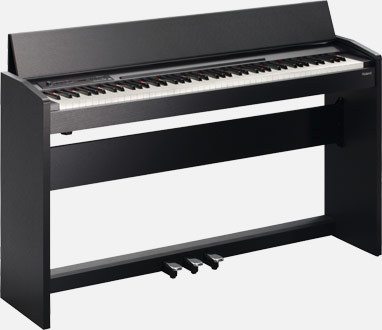 More about Roland F120
SuperNATURAL Piano engine onboard
Compact, lightweight and stylish cabinet
Ivory Feel-G keyboard for true piano feel and touch
The Metronome, a recorder, and Twin Piano features
Dedicated front-panel buttons for piano practice, performance, and lessons
Low power consumption and Auto Off function
Two classy finishes: Satin Black and White
Roland F 120 Specs
Keyboard
88 keys (Ivory Feel-G keyboard)
Touch Sensitivity
Keyboard Modes
Sound Generator
Piano Sound
Max. Polyphony
Tones
Stretch Tuning
Master Tuning
3 Hz to 466.2 Hz (adjustable in increments of 0.1 Hz)
Transpose
Effects
Reverb (Off, 1 to 10)
Brilliance (-10 to 0 to +10)
Only for Piano Tones:
String Resonance (Always On)
Damper Resonance (Always On)
Key Off Resonance (Always On)
Recorder
Track
Songs
Recorder Section: 1 song
Internal Memory: Max. 10 songs
Note Storage
Controls
Song Select
Play/Stop
Rec
Previous/Rewinding
Next/Fast-forwarding
Track Mute
Tempo
All Song Play
Count-in
Tempo
Resolution
120 ticks per quarter note
Metronome
Beat: 2/2, 0/4, 2/4, 3/4, 4/4, 5/4, 6/4, 7/4, 3/8, 6/8, 9/8, 12/8
Internal Memory
Songs
Other
Internal Songs
Rated Power Output
Speakers
Pedals
Other Functions
Panel Lock
MIDI Visual Control
Connectors
DC In jack
Pedal connector
Input jack: Stereo miniature phone type
Output jacks (L/Mono, R): 1/4-inch phone type
MIDI connectors (In, Out)
Headphone jack x 2: Stereo 1/4-inch phone type
Power Consumption
Accessories
Owner's Manual
AC Adaptor
Power Cord (for connecting AC Adaptor)
Headphone Hook
Size and Weight (With lid closed, stabilizers mounted)
Width (W)
Depth (D)
Height (H)
Weight