Best Face Moisturizers for Extremely Dry Skin: Do you have dry skin, flaky, dull, or feel like your skin is not the way it's supposed to be. You are on the right page. We are going to look at the best moisturizers for dry skin to help rejuvenate your face or body.
Best Face Moisturizers for Extremely Dry Skin

Find some of the best facial creams on the market that you can purchase at an affordable price. Order your best facial moisturizers for dry skin today through Mzuri Products
Murad Anti-Aging Moisturizer Broad Spectrum  – Best Moisturizers for Dry Skin
Murad Anti-Aging Moisturizer Broad Spectrum SPF 30 helps in promoting a smooth and giving you a youthful appearance while at the same time controlling the oil on your skin.
It is well-designed to protect your skin from the harsh conditions of the sun while promoting a youthful skin texture.
Why choose Murad Anti-Aging Moisturizer Broad Spectrum SPF 30?
The kombucha Collagen Defense contained in the product aids in smoothening the appearance of wrinkles while the willow bark extract controls oil and speeds the healing of acne.
Contains ingredients that fight wrinkles and acne
Customers who have used the product say it is a wonderful moisturizer, it is light and comfortable
It works best for my skin which tends to break out from time to time
Find: Best Anti-Aging Moisturizers With SPF
St. Ives Renewing Facial Moisturizer, Collagen Elastin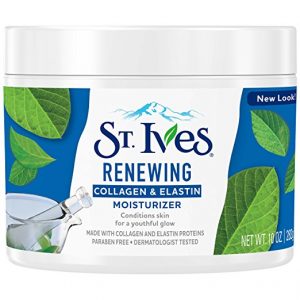 St. Ives Renewing Facial Moisturizer will enable you to have that fresh facial texture you always want. It is infused with hard‐working collagen, elastin, and safflower seed oil, a hydrating formula that gives your dry face what it needs. It is one of the best moisturizers for dry skin.
You can use it in the morning and at night to get the best results for smooth and glowing skin. The product is said to improve your skin's appearance in seven days
More about the product
Nourish your skin with the goodness of 100% natural moisturizers.
Help to smooth and moisturize skin.
Gives you a youthful skin
The face moisturizer helps renew the skin for a beautiful and healthy glow.
Contains collagen and elastin proteins which improve the skin's elasticity
Contains Safflower seed oil and glycerin which hydrate and protect the skin
It is hypoallergenic
Dermatologist tested
Made with a 100% natural moisturizer
Paraben-free
Non-comedogenic
Neutrogena Hydro Boost Hyaluronic Acid Hydrating Face Moisturizer
Vichy Aqualia Thermal Hydrating Fortifying Lotion 24-Hour Facial Moisturizer with SPF 25
Neutrogena Hydro Boost Gel-Cream will instantly quench and provide you with long-lasting moisture relief for your extra dry skin. It keeps the skin looking smooth, elastic, and hydrated all day.
It contains a unique formula that absorbs quickly like a gel and contains a long-lasting moisturizing power of a cream.
The product is formulated with hyaluronic acid which is naturally found in the skin. The Hyaluronic acid behaves just like a sponge for dry skin cells moisturizing with up to 1,000 times its weight in water. The results of this formula are amazing, you will have healthy and smooth-looking skin.
More about the product:
Dermatologist Recommended
This gel cream is oil-free, dye-free and fragrance-free
Non-comedogenic
Can be worn alone or under makeup
It instantly quenches the skin
It has clinically been proven to keep skin hydrated for forty-eight hours
Fast-Absorbing.
It is 100% alcohol-free
Lightweight and non-sticky
Vichy Aqualia Thermal Rich Cream 48-Hour Facial Moisturizer with Hyaluronic Acid for Dry Skin
This Lotion is a lightweight facial moisturizer with SPF 25. The product provides 24-hour continuous hydration and daily protection from UVA and UVB rays.
This product once you start applying, immediately hydrates, soothes, and fortifies the skin. Oh! You will feel refreshed and smooth.
It is formulated with Vichy Mineralizing Thermal Water which is rich in rare minerals that help strengthen and protect skin from external aggressors.
This lotion has a non-greasy face cream texture that melts immediately into the skin. It does not leave any white or shiny finish.
Start protecting yourself from sun effects with this amazing lotion.
More about the product
Lightweight face moisturizer with SPF for daily use
Provides twenty-four-hour hydration
Broad Spectrum SPF 25 protection acts as a daily defense against skin-damaging UVA and UVB rays.
Vichy's formulas combine clinically proven ingredients with mineral-rich volcanic water
It's oil-free and safe for sensitive skin
It has a creamy texture that sinks in fast.
Safe and Clean
Highly Effective
Luxurious yet affordable products
Oil-free
Non-acnegenic
Allergy-tested
Paraben-free
Sensitive skin tested
Brickell Men's Daily Essential Face Moisturizer for Men – Natural & Organic Face Lotion
Brickell Men's Daily Essential Face Moisturizer for Men is a Natural and Organic Face Lotion.  This lotion will give you firmer, hydrated, and brighter skin. This is the best face moisturizer for men.
It is a light, oil-free, and fast-absorbing facial moisturizer for men. The product is packed with potent natural ingredients.
Brickell Men's Daily Essential Face Moisturizer nourishes hydrates, renews, and protects the face without clogging the pores.
The Key Ingredients are Natural and Certified Organic ingredients which include jojoba oil, aloe, hyaluronic acid, vitamin E, and green tea. The lotion is 100% natural and 83% organic.
More about the product:-
Gives you clearer and firmer skin
With this lotion, look younger.
Oil-free face lotion for men.
Best for men with normal, sensitive, oily, dry, or combo type of skin
Face Cream Moisturizer (1.7 OZ) Natural Anti-Aging Skin Care
Face Cream Moisturizer by LilyAna Naturals is best for moisturizing dry skin. You will notice a big difference compared to other creams. No will experience no irritation or breakouts. Your face lines and wrinkles will disappear or soften just after a few applications. It makes your face feel firmer.
Your search for the best Face Cream will be over when you start using this cream.
It contains ingredients such as rose oil, pomegranate extract, aloe vera,  and Vitamin C
More about the product:-
Reduces the appearance of fine lines and wrinkles
It reduces dryness and sagging of your skin
It Increases firmness, elasticity, and plump skin.
It Improves skin tone and texture.
Best facial creams
Reduce discoloration and scaring.
Hydrates soften and smoothen the skin to prevent premature aging.
Safe on all skin types.
No Parabens,
No Artificial Colors
No Artificial Fragrances.
Christina Moss Naturals Organic Facial Moisturizer
Christina Moss natural's organic facial moisturizer is an amazing product for all skin types. It is an anti-aging product, will make your skin look beautiful, repairing damaged skin at the same time make your skin look good and healthy
This Facial Moisturizer is organic and uses the freshest ingredients. It does not contain harmful chemicals or preservatives
This moisturizer hydrates nourishes and feeds your skin with key essential oils and organic ingredients leaving it healthy and beautiful.
More about the product:
Works magic on your skin
Organic Facial Moisturizer best for ALL Skin Types: Oily skin, Sensitive Skin, Dry Skin, and Combination Skin.
Non-greasy. Do not clog pores.
Does not irritate
No animal testing
Absorbs well and holds moisture
Satisfaction GUARANTEED or your money back.
Philosophy Renewed Hope In A Jar Moisturizer for Unisex
Philosophy Renewed Hope in a Jar Moisturizer for Unisex is an advanced and lightweight facial moisturizer. It makes your skin feel refreshed, softer, and look healthy. The product contains a triple blend of alpha-hydroxy acids, 3 forms of hyaluronate, and Asian fruit extract.
It provides a longer-lasting glow and continuous hydration benefits to your skin.
More about the product:-
Refines skin's texture while visibly improving pores and fine lines
Makes your skin appear softer, re-energized, smoother, younger, and looking healthier
You can apply morning and evening after cleanser and treatment
Does not contain sulfates, parabens, or phthalates.
L'Oreal Paris Hydra Genius Daily Liquid Care, Extra Dry Skin, 1.7 oz.
L'Oreal Paris Hydra Genius Daily Liquid Care Moisturizer gives you a 72-hour Long-lasting liquid moisturizer for visibly fresh and glowing skin.
This lotion is best for all skin types. It will make your skin look fresh, plump, and beautiful.
It is infused with Hyaluronic Acid and quenching Aloe Water.
It contains a lightweight formula that delivers instant and continuous hydration that lasts for a long.
The formula does not contain parabens. Although is packed with nourishing ingredients such as shea butter, glycerin, and meadowfoam seed oil.
Lavo Daily Moisturizer Cream
Lavo Daily Moisturizer Cream is best for Acne-Prone Skin Types and for Oily Skin.
Customers love this product as it makes their skin look brighter and smoother. Others say it makes them feel amazing and clears up any occasional breakouts.
The cream creates a thin barrier on top of your skin so that pollutants do not penetrate through.

It absorbs quickly and leaves a matte finish for wearing under makeup.
More about the product:-
Non-greasy does not leave your skin feeling sticky
Best for men and women
Best for oily skin, pimples, and acne
It is fragrance-free
Paraben-free
Cruelty-free
Själ Cela Intuitif Light Cellular Renewal Crème
Själ Cela Intuitif Light Cellular Renewal Crèm is a lightweight crème designed to fight the effects of photo-aging by promoting cell renewal, reducing fine lines, and even skin tone. It gently polishes, nourishes, soothes, and hydrates skin without irritation.
More about the product:-
Reduces lines and wrinkles
Promotes skin clarity
Prevents clogged pores
Makes the skin look beautiful, smooth, radiant, and feel healthy
Best for oily skin, combination, or sensitive skin types.
Non-oily texture
Soothes and de-sensitizes skin
Carapex Botanical Facial Moisturizer
Carapex Botanical Facial Moisturizer restores healthy skin, youthful fullness, and a beautiful glow on your face.
This product does not contain any added perfumes, but there may be a very slight scent from the natural ingredients used.
It contains a blend of five natural oils (olive, avocado, grapeseed, sunflower, and sweet almond), combined with exotic mango seed oil and shea butter which assists in increasing skin's elasticity and eases dryness
This product moisturizes, nourishes, and protects the skin without clogging pores. The end result is amazing, it leaves your skin healthy, radiant, and supple
More about the product:-
Gently moisturizes, protects, softens, and repairs your skin
Visibly reduces lines and wrinkles
Returns the youthful plumpness to your skin
Contains no artificial fragrance or colors
Suitable for all types of skin
It can be spread and absorbed easily
Do not leave traces of greasy residue.
Non-greasy cream
Eucerin Sensitive Skin Experts Q10 Anti-Wrinkle Face Creme
Eucerin Sensitive Skin Experts Q10 Anti-Wrinkle Face Creme gives you a moderate way to visibly reduce the look of fine lines and wrinkles in your face in less than 5 weeks.
This product is made for dry and sensitive skin. It does not irritate your skin as many anti-wrinkle moisturizing crèmes do.
The Face Creme is formulated to be non-irritating and to soothingly reduce wrinkles and the signs of aging.
Eucerin Sensitive Skin Experts Q10 Anti-Wrinkle Face Creme is designed to repair, protect, and enhance the health of the skin. Best for the whole family
More about the product:-
Gives you the confidence you need as it gives you the radiant and healthy skin you need
Formulated with anti-oxidants Coenzyme Q10, Beta-Carotene, and Vitamin E
Helps protect against the damaging effects of free radicals
Can be used alone or under make-up
Fragrance-free
Alcohol-free
Non-comedogenic
Gentle for sensitive skin
Garnier SkinActive Moisture Rescue Face Moisturizer
Garnier SkinActive Moisture Rescue Face Moisturizer is best for dry skin. It is oil-free and contains Vitamin C and Fruit Water Antioxidant Complex which provides twenty-four-hour hydration and protects and defends against moisture loss.
This product does not clog pores. It will leave your skin feeling deeply hydrated, smoother as well as softer.
It is suitable for all skin types, particularly dry skin.
More about the product:-
Oil-free
Formulated with antioxidant vitamin C and a fruit water antioxidant complex
non-comedogenic facial moisturizer
Has a soothing gel-cream texture
Hydrates without clogging your pores
Murad Perfecting Night Cream
This night cream helps in nourishing and rejuvenating the skin. The cream is amazing it restores lost moisture and promotes healthy cell turnover. The product replenishes hydration, restores supple skin, and soothes sensitivity.
More about the product:-
Essential Fatty Acids protect the skin's barrier and prevent moisture loss.
Intensive hydration cream rejuvenates and restores the skin overnight.
Green Tea and Vitamin E help rejuvenate and prevent damage.
Sunflower Oil increases skin elasticity and suppleness.
Conclusion
Hope you have managed to find the best face cream for dry skin. Which is your best face moisturizer for dry skin? Drop us an email and we will review it.