Best Bed Cooling System for Night Sweats: Today we are going to look at the Best Bed Cooling System that will keep your bed at the optimum temperature as you enjoy your sleep.
These Bed cooling systems use the latest technology to control the temperature while you sleep.
To have a good night's sleep you will need the best Bed Cooling System.
Check out some of the best Bed Cooling System below
Best Bed Cooling System for Night Sweats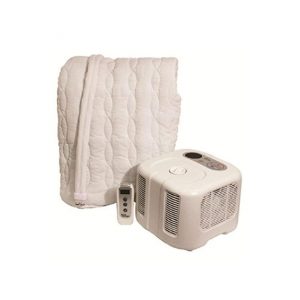 If you are looking for a well-designed night cooling system then, chill pad cube is one of the systems to consider.
This bed cooling system is a water-based system that will aid in cooling your bed temperature.
The ChiliPad Cube is designed in such a way that it will create the perfect sleep environment just the way you want. This bed cooling system will enable you to fall asleep much faster, wake up refreshed, and be ready for the day.
This system will regulate the mattress pad temperature and maintain the temperature during the night.
The ChiliPad Cube is a 100% satisfaction guarantee. When you purchase this item and you are not satisfied you can return it and get your money back.
More about the Split King (Twin XL) ChiliPad Cube
Water-based cooling system
Regulates your sleep temperature giving you the perfect sleep
Features a wide temperature range – It is able to regulate your sleep temperature from 55F to 110F.
It uses a sleep technology that creates a cooling and heating mattress pad.
Satisfaction guarantee
Fits seamlessly on your current mattress
Remote controlled
Helps you to fall asleep faster
Gives you a deeper and better sleep
The BedJet is a highly recommended cooling and heating product for beds in America.
The BedJet is loved by many people because it is well designed to fit your temperature needs. There are some who want it hot; others want to stay dry while others just want a good sleep temperature. You will find it all on BedJet.
The BedJet V2 uses advanced technology to gently send a quiet stream of air into your bed to give it a nice cooling and warming effect.
This bed cooling system is best for rooms that are small in size, stuffy bedrooms, night sweats, hot sleepers, and hot flashes.
This product uses sleep-inducing biorhythm temperature technology to aid you to fall asleep quicker, stay asleep for longer, and at the same time wake up more refreshed.
More about the product:
Works on any size of bed
The night sweat management mode has been proven to remove body moisture from the bed and keep you dry and comfortable
Best for cooling stuffy bedrooms
It is wireless
Provides an instant cooling effect.
Good investment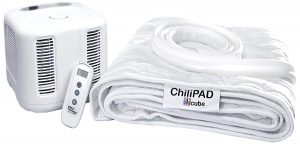 Split Queen (Single) ChiliPad Cube is a Heating and Cooling Pad that fits into your existing mattress and delivers the correct temperature to creates the perfect sleep environment.
ChiliPad Cooling and Heating Mattress Pad provide you with an environment that will give you a perfect sleep.
This system features a cooling and heating temperature control system that regulates the surface temperature of your mattress to provide you with a comfortable sleep all night long.
More about the product:
Fits single size mattresses
Able to fit all standard and mattresses which are extra thick
You are able to customize your temperature
Uses innovative sleep technology to provide a cooling and heating mattress pad
Wide temperature range
Satisfaction guarantee.