Philips Sonicare 2 Series plaque control rechargeable electric toothbrush enables you to remove tooth-decaying plaque and avoid cavities. Get this Philips Sonicare hx6211/30 2 series plaque control rechargeable toothbrush at an amazing price.
This rechargeable toothbrush has amazing features and it's easy to operate.  The brush has curved bristles which makes it match the shape of your teeth. This gives your teeth a better clean that removes up to 6x more plaque than a manual toothbrush.
As you get used to the Sonicare experience, the easy-start element gradually increases the power of the brush and the smartimer encourages a full two minutes brushing time.
The handle is designed in such a way that it makes it easy to hold the brush when using. It has a two-color battery charge indicator that lets you know when the charge is depleted and the best time to charge.

Philips Sonicare 2 Series plaque control Electric Rechargeable Toothbrush At-a-glance
Sonic technology delivers up to 31,000 brush strokes per minute
Removes 6x more plaque than a manual toothbrush
Snap-on brush head with easy-to-clean material
The Easy-start feature slowly increases power over the first 14 uses
It helps prevent tooth decay and avoid cavities
The smartimer feature encourages two minutes of brushing as recommended
Has a two-color battery charge indicator that lets you know when to recharge
Ergonomic design with intrinsic grip for comfort
Has a 2 weeks battery life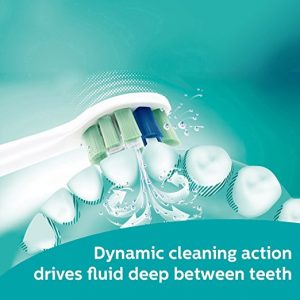 What the Kit Includes:- Philips Sonicare 2 Series plaque control rechargeable electric toothbrush

1 Philips Sonicare
2 series rechargeable toothbrush
1 pro results plaque control brush head
1 charger