Best Kitchen Gadgets: Discover the Best Kitchen Gadgets that you can use within your kitchen.
There are plenty of kitchen gadgets and tools on the market that can make cooking easier, fun, and more efficient.
Find kitchen gadgets must-have. These cool kitchen gadgets are affordable.
Best Kitchen Gadgets
Below are of the best Kitchen Gadgets to buy
Whisk Wiper
This is a Multipurpose Kitchen Tool. It enables you to wipe a whisk and bowl in seconds.
Helps you save the entire recipe as well as keep your counter clean. It's also a cool baking gadget.
It perfectly fits the included 11″ whisk.
The product is made in the USA
Find: Best Touchless Kitchen Faucet
Taco Holders
These are 12 fun perfectly designed individual taco stands. They are safe, easy, and convenient to use. They are Colorful Non-Toxic BPA Free, Microwave Safe Stands for Soft and Hard Shells.  Get Homey Taco Holders for soft taco shells and hard taco shells in any shape you would like – sharp, rounded, Dali, or even square.
Find: Best Kitchen Faucet
Barbuzzo Ice Luge
If you have some guests or want to surprise your friend, add some water and, pop in the freezer. Within 24 hours you will have your own frozen ice luge to use and chill your favorite drinks.
Take your party to the next level with Barbuzzo Ice Luge.
Kitchen Gizmo Snap 'N Strain Strainer
This product enables you to strain your pasta with ease. It uses clips to hold on the side of your pot. It is flexible enough to fit onto nearly all pots, bowls, and pans. It will eliminate the need to transfer the food out of the pot.
OXO Good Grips 3-in-1 Avocado Slicer
No more using knives or making your utensils dirty. OXO Good Grips 3-in-1 Avocado Slicer is the answer. It enables you to split, pit, slice, and scoop avocados safely and effectively.
Grillaholics Stuffed Burger Press
The Grillaholics Stuffed Burger Press is an accessory that will help you make perfect burgers. The burgers are proportional in size. Just press it, stuff it, and seal it.
Taiyaki Japanese Fish-shaped Hot Cake Maker
This is a Japanese fish-shaped waffle. Make your pancake in fish-shaped.
Charcoal Companion Dog Corn Holders
These whimsical Wiener Dog Corn Holders are perfect for all Dachshund lovers. It puts the fun into eating corn off the cob. It gives you a better grip as well as prevents burning your fingers.
Also find: Best Bread Machines
Elite Cuisine 3-in-1 Breakfast Center – Best Kitchen Gadgets
The Breakfast Center is small and compact. It is perfect for smaller kitchens, rooms, and dorm rooms. You can Fry, Toast as well as make coffee.
Also find:
Best Touchless Kitchen Faucet
Best Kitchen Faucet Reviews
Clear View Toaster
With this toaster, you will now make your toast just the way you love it. The toaster features one-touch buttons for defrosting, re-heating, bagels as well as an auto-shut-off function for safety.
Master Pan Non-Stick Divided Meal Skillet
It features five 5 compartment that enables you to cook everything you need in a single pan. It only requires one burner.
The product is Non-stick and stain-resistant. The MasterPan is also oven-safe up to 350F.
The Original Never Soggy Cereal Bowl
Do you hate soggy cereals? This bowl solves the problem. It is easy to hold and makes the cereal just the way you love them.
Made in the USA
Yolkfish Egg Separator
This gadget is mess-free. It easily separates yolks from whites. It measures 1.6 x 4 x 2.6 inches
One-Click Stick Butter Cutter with Stainless Steel Blade
This gadget is made of plastic with a stainless steel blade. It easily slices cooled butter evenly for your perfect toast. It enables you to cut the right portion you need for cooking.
Hamilton Beach 25475A Breakfast Sandwich Maker – Best Kitchen Gadgets
This gadget enables you to cook delicious breakfast sandwiches in the comfort of your own home in just 5 minutes. All the removable parts are dishwasher safe.
Fred TACO TRUCK Taco Holder
This taco holder is molded from food-safe polypropylene plastic. It is a product that combines fun and functionality.
Bear Paws Shredder Claws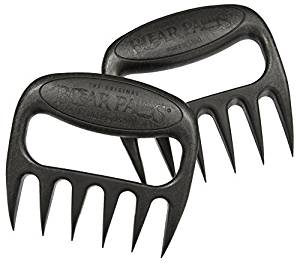 Bear Paws is a must-have BBQ accessory. It is designed for lifting and shredding meat. The Bear Paws provides you with a better way to shred meat than the traditional knife and fork.
Levoons Self-Leveling Measuring Spoons
It features one set of four measuring spoons which contain large easy to read measurements. Measuring of your ingredients has been made easy with the Squeeze and Level Measuring Spoons
Pancake Batter Mixer – Best Kitchen Gadgets
This Pancake Batter Mixer gives you the easiest way to make smooth batters for pancakes, crepes, waffles, and more. Reduce the mess within your kitchen with Pancake Batter Mixer with BlenderBall Wire Whisk
SQdeal HG6 Cartoon Cute Boil Egg Sushi Rice Decorating Mold Mould
The molds are sturdy enough to handle rice or boiled eggs to shape.  The mould gives you an easy way to make professional sushi in your own home.
Astro-Fruit & veggie keeper
This is a must-have for any kitchen especially if you like fun and unique kitchenware. It keeps your half-chopped fruits and veggies safe. It easily fits limes, lemons, onions, and tomatoes. It comes in different colors to choose from.
Chef'n Cob Corn Stripper
This is an easy-to-use compact corn stripper. It easily helps you remove corn from the cob in one quick twisting or pushing motion.
Nostalgia Bacon Express Crispy Bacon Grill
This Bacon Express enables you to cook up to six strips of lean thin-cut bacon in minutes. It cooks bacon evenly without having to turn it. It is not recommended for use with thick-cut or fatty bacon.
The Dipr the Ultimate Cookie Spoon
The dipr is a spoon that holds your cookie as you dip it in milk or other liquid. It enables you to get the maximum milk coverage without getting your fingers messy.  The product is food-safe and meets FDA food contact standards.
Crinkle Cutter
This abtong crinkle cutter is best for decorating food. You can use it on a french fry, making a salad, veggies cutting, slicing fruit, Waffle fries, and solid vegetables like potatoes, cucumber carrot.
Crinkle cutter is a useful and essential tool for professional pastry chefs or bread makers and cook.
Nessie Ladle Green
Monkey Peeler, Animal House Collection
This is a fruit and vegetable peeler. Make your daily chores fun with these Animal House Collection peelers.
Rollie Hands-Free Automatic Electric Vertical Nonstick Easy Quick Egg Cooker
This gadget enables you to enjoy your eggs. It enables you to prepare eggs, frittatas, omelets, and more in two steps.
Sushi Bazooka
It enables you to make round sushi rolls at home.
Chef'n GarlicZoom Garlic Chopper
This gadget allows enables you to mince garlic to your desired texture without dirtying cutting boards or knives with sticky garlic juice.
Simple Living Stainless steel pineapple peel
This gadget is made from high-quality stainless steel. It enables you to peel the pineapple with ease.
Salad Chopper Bowl and Strainer
You can now cut and prepare your salads and vegetables easily with Salad Cutter Bowl.
Cyclone Barbecue Sausage Cutter
Baker's Edge Nonstick Edge Brownie Pan
Bicycle Pizza Cutter- TOUR de PIZZA
This is a dual stainless steel non-stick cutting wheel. It effortlessly cuts on even the thickest of pizza crusts. It is easy to clean. It is an ideal gift for those who love pizza.
Conclusion
Hope you have found the best kitchen gadgets must-have or cool kitchen gadgets for mom or for your kitchen.