Discover the Best Kids Picnic Tables to buy.  When going for a picnic or the sun is shining and want to spend some time outdoors, there is no need to leave your child behind. Enjoy some fun with your kid. That's why we are going to look at the best children's picnic tables reviews.
These picnic tables for kids are not only good-looking; they are designed to perfectly and comfortably fit any toddler. The child can easily climb in and out without assistance, making them ideal for games, arts and crafts, as well as other activities within your home.
Kids' picnic tables are typically light, foldable, and designed to be easily portable. The foldable design of the kids picnic tables makes them easy to store as well as carry.
Best Kids Picnic Tables
Below are the best picnic tables for toddlers to buy. Get one for your child, let them enjoy the fun with you wherever you go.
Lifetime 60132 Children's Oval Picnic Table, Lime Green
This children's picnic table from lifetime products measures 43.8 x 39.2 x 3 inches and weighs 27.6 pounds. It is able to accommodate four children. The children's picnic table is able to fold flat for easy storage and transportation.
Have fun with your kids when you purchase this kid's table for a picnic.
The table is constructed using high-density polyethylene and powder-coated steel. The table is stain-resistant, UV-protected, and easy to clean.
The picnic table is designed to be durable and of high stability.
Perfect for ages 3 to 8 years.
More about the table:
Seats 4 children comfortably
Folds flat for easy storage
Designed for indoor and outdoor use
UV-Protected top
Stain Resistant and Easy to Clean
Durable High-Strength Low Alloy Steel Frame
White foldable Children's Picnic Table
This Foldable Children's Picnic Table measures 36 x 16.75 x 21.5 in and weighs 30 lbs. The table is white in color.
Have your kid enjoy the fun with you on your picnic day with KidNic picnic table.
The KidNic Children's Picnic Table is perfect for picnics and outdoor fun. At home, you can place it anywhere as it will blend perfectly with the room setting.
Its design enables you to fold it easily and quickly for easy storage. In terms of setting up the KidNic Children's Picnic Table, it is easy and will only take you about 20 seconds.
It also takes up less space and can be used in small playrooms, terraces or patios. The table can support up to 600 pounds of weight.
More about the table
Foldable – requires less space to store
Can be used in areas with limited space
Designed using durable Plastic Material
It can withstand unruliest wear and tear activities of the most active children
Easy to store as its foldable
Well designed to look elegant and presentable
Also find: Best Office Chairs
Little Colorado Child's Picnic Table – Kids Wooden Picnic Table
This Little Child's Picnic Table measures 30 x 33 x 22 inches and weighs 30.9 pounds. It is made in the USA and east to assemble.
The kid picnic table for children is best for ages two to seven. It is made designed from quality solid Montana pine wood. Safety has been considered while designing the table.
The table is uniquely designed as much as it's simple, you can easily differentiate it from other kids' picnic tables.
If you are in search of the most affordable and portable kid's picnic table this is the best choice for you.
Features
Lightweight
The Colorado picnic table is lightweight. It weighs 30.9 pounds making it easy to move around. No more worry on how you are going to transport this picnic table.
Easy to Assemble
This table is easy to assemble. You will only take a few minutes to put it together to have a strong steady and complete picnic table for your child.
Strong Solid Wood
The table is designed from superior quality wood material. It is strong to keep your child safe as well as endure harsh conditions.
Unique Design
This kid's picnic table is liked by many as its uniquely designed and simple. The corners are well designed for the safety of your child.
Little Tikes Fold 'n Store Picnic Table with Market Umbrella – Child Picnic Table
This Fold 'n Store Picnic Table with Market Umbrella measures 47.5 x 47.5 x 20.5 inches and weighs 35.5 pounds. It is well designed for the kid's size making it perfect for games, snacks and crafts.
Its compact design makes it easy to store. You can fold it for storage after removing the screws.
More about the Child Picnic Table:
Unique 4-sided table is ideal for snacks, crafts, games, picnics and more.
Natural look
Designed using quality materials
Easy to assemble
Foldable
Made in USA
Fitting umbrella
Merry Garden Kids Wooden Picnic Bench
Kids Wooden Picnic Bench measures 31 x 35 x 19.6 inches and weighs 17 pounds. It is beautifully designed to allow the kids to enjoy the company of their parents in style.
The picnic table can accommodate four kids. It is made of strong wooden material making it durable. It features rounded edges and corners which are safe for children.
Best for indoor and outdoor use
More about the product:
Minimal assembly required
Beautiful classic picnic table design
Sits up to 4 kids
Sturdy and Durable
Perfect for Indoor and Outdoor Use
Natural Oil Based Stain Color
Resistant to dirt
Easy to clean
Easy to fold.
Step2 Sit and Play Kids Picnic Table With Umbrella
This table is perfect for your kid's outdoor and indoor activities. The table measures 29 x 37 x 19 inches and weighs 15.01 pounds.
More about the table:
Compact kids picnic table for your toddlers and preschoolers
Made in USA
Easy to fold and set up
Easy to store as it's foldable
It features a removable 42″ square umbrella
Also find: Best Wooden High Chairs
This kids wooden picnic table is perfect for playing games, eating meals, working on homework and more. It measures 42″ x 22.64″ x 18.98″ and weighs 44.1 pounds. The benches measures 35.83″x 11.34″ x 10.43″.
More about the table
Comes with matching canopy and bench cushions
Easy to store
Made to be weather-resistant
Has an umbrella that helps shield children from UV lights
Lifetime 280094 Kid's Picnic Table
Get your kids this well designed kid's picnic table from Lifetime Products. The table can comfortably sit 4 kids. It measures 32 x 35.5 x 21.5 inches and weighs 22 pounds.
The kids picnic tables fold flat for easy storage and transportation. It is constructed of high-density polyethylene and powder-coated steel.
More about the Product:
It is stain resistant
Easy to clean
UV-protected
Folds Flat for Convenient Storage
Can sit 4 Kids Comfortably
Does not Crack, Peel or Chip
Durable and strong
Step2 Naturally Playful Picnic Table with Umbrella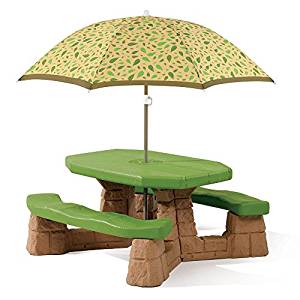 Step2 gives you the best kid's picnic table. It will make your kids love picnics more. The table features an umbrella that will protect your kids from direct sun.
Its design makes it to fit into any environmental setting.
More about the product:
Can sit six kids comfortably
Easy to clean
Maximum weight 300 lbs.
Does not fade
Perfect for indoor or outdoor use
Minimal assembly required
Little Tikes Easy Store Junior Picnic Table with Umbrella
This table is the right size for toddlers. Its portable design requires no tools to assemble. They are easy to clean and fold. It measures 29.5 x 25.3 x 18.5 inches and weighs 15 pounds.
Your child will love this table with an umbrella. It will make them love activities. It is best for indoors or outdoors.
More about the umbrella:
Designed for the young kids
Easy to store and fold
Features a stylish umbrella which provides UV protection during picnic time
Do not require tools to set up
Can seat up to 4 children
The maximum weight is 50 lbs
Best for age18 months to 5 Years
Benefits of Kids' Picnic Tables
Easy to Use
Most Picnic tables for kids are easy to assemble and use. This ensures you save time and have more fun with your kids.
Improved Safety and Health
The kids picnic tables are well designed to ensure your kid is safe and is not exposed to harmful objects while playing as they will not be sitting on the ground. Get your child the best kids table for picnic today.
Affordable
The kid's picnic table will not cause a dent in your pocket. They are pocket friendly.
Picnic Tables Are Versatile
The tables can be used for a number of activities. They can even be placed in areas that have very limited space.
Portability
The kid's picnic tables are portable and easy to store. You can easily fold them and carry them wherever you want to enjoy the picnic with the children.
Conclusion
Love going for a picnic, grab one of these picnic tables for Kids and have an amazing time together