Find the best insect killer for outdoors on Mzuri Products. Insects such as mosquitoes and bugs sometimes can be annoying more so if you have an activity with your friends outside your home or when you are busy trying to finish some work within your house before going to sleep.
No one likes insects around them. That's why we have a list of the top best insect killer for the outdoors that you can use to get rid of them.
These insect killers will help to kill insects that are in or around your home depending on where you would like to use it
Apart from these insects being a nuisance to you, they can also be a safety and health hazard, therefore it's important to manage them from the word go.
One of the effective ways to get rid of insects is when you use a method that is always safe. Something that contains no harmful chemicals or smells that can be harmful to you or your family.
One of the best ways to get rid of insects is by use of electrical insect killer for outdoors. That's why we are going to look at the best insect killer outdoors in the market that you can purchase.
Best Insect Killer for Outdoors
Discover the best outdoor mosquito control below.
Stinger Cordless Rechargeable Insect Zapper – Best Insect Killer
During the warmer months of the year, airborne pests such as flies, moths, beetles, and mosquitoes, can be an annoyance especially when you are entertaining your guests or relaxing on the decks and patios.
To fight these irritating insects you will require Stinger Insect Zapper Lantern. This lantern will work magic. It is has been tested and recommended by entomologists
Stinger Insect Zapper Lantern is cordless and rechargeable. This makes it easy to place it wherever you want or near where you will be sitting.
The Lantern Zapper covers an area of 625 sq. ft. which is good enough to keep the insects away.
More about the product:
Portable
Cordless
rechargeable
Can run up to 3.5 hours and requires 3 hours recharge time
Black UV light technology
Elucto Electric Bug Zapper – Fly Swatter mosquito killer
Get rid of bugs using the ELUCTO Bug Zapper and have an amazing evening day or evening outdoors. The insects will be zapped there and then killing them on the spot.
This device is very effective. No chemicals were used. The ELUCTO bug zapper racket produces electric shock waves that destroy the bugs. It does it so silently that you will not even notice it.
The Fly Swatter mosquito killer is very safe for you as well as the environment.
More about the product:
Operates on 2 AA batteries
Easy to use
No chemicals
Highly reliable
Also find: Best Ant Killers
Ihomy Electronic Insect Killer
No one likes mosquitoes buzzing in their ears or flying around where they are. The iHomy Electronic Insect Killer is well designed to help you get rid of insects. The light bulb emits 360-420NM light
wavelength which induces the mosquito and wipes it out.
The bulb is perfect for an indoor home garden patio backyard.  You can use it as a light bulb with
mosquitoes killing function or as a mosquito zapper only.
The bulb can act as a lighter as well as an insect killer. It is Non-toxic and odorless. You will no longer need to spray or use harmful chemicals. The bulb is convenient and safer to use
More about the product:
It helps in eliminating mosquitoes, bugs, insects, etc
It can last up to 50,000 hours
It is an odorless and Soundless mosquito killer
Its light is bright enough
Voltage input is 110V
it measures 6.2 * 3.1 * 3.1 inches
Con:
It is not waterproof
Bug-A-Salt Lawn & Garden Edition
This is more fun to use. It enables you to shoot a load of salt that will help in eliminating the irritating insects. The device uses ordinary salt which is readily available. It also gives a larger amount of salt compared to other devices on the market. The product is safe to use and no batteries are required.
More about the product:
Shoots a larger load of salt to get rid of irritating insects outdoors
It is non-toxic
Uses ordinary table salt
GLOUE Bug Zapper Electronic Insect Killer – Mosquito Killer Lamp
This mosquito killer lamp measures 3.7×2.55×2.36 inches and weighs 2.4 ounces. It is easy to use as well as carry.
The product does not use any harmful chemicals. Say no more to harmful pesticides or potentially harmful sprays. The device is very effective; it will get rid of mosquitoes fast.
The device works well at night.
Flowtron Electronic Insect Killer
Flowtron Electronic Insect Killer attracts and Kills Flying Insect Pests fast and effectively. The device comes assembled and ready to use. It gives you peace of mind when you are having that outdoor activity or a get-together.
The device uses a high-intensity black light bulb which lures and eliminates light-sensitive flying insects. It is well designed to protect a big area of up to 1-1/2 acres.
More about the product:
Highly effective
Non-clogging killing grid
weatherproof polycarbonate construction
Easy bulb replacement
Comes with 2 years limited warranty.
Flowtron BK-15D Electronic Insect Killer
This device will enable you to get rid of flying insects in your outdoor living areas without harming the environment.
The Insect killer is affordable and very effective. It is Maintenance-free and features a UV light and an electrified grid that eliminates insects.
It is clean to use and does not use any chemicals.
Zap-It Bug Zapper – Best Fly Swatter
This is an electronic fly swatter that will help you in eliminating all types of flying insects. The device is easy to use, when you see an insect, swing the device in its path, while you are pressing the activator.
The device features ultra-fast charging making it available for use anytime you need it.
This is one of the fly swatters on the market. It is fun to use as well as very effective.
More about the product:
Kill Bugs Instantly
Ultra-Fast USB Charging
Super Bright Led Light
Safe To Touch
Aspectek's Best Insect Killer and Bug Zapper Device – Electric Indoor Insect Killer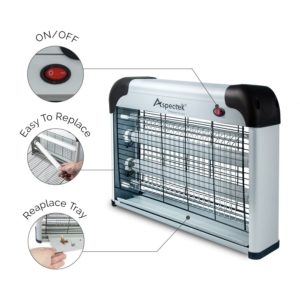 The Aspectek Electronic Insect Killer and Bug Zapper is one of the best pest control devices. The device mainly focuses on zapping flying insects such as flies, mosquitoes, wasps, moths, as well as any bugs which are attracted by UV lights.
It is easily portable and you can use it outdoors where there is a roof.
The device contains 2 main features:
More about the product:
Easy to maintain
A very effective and powerful insect control device
Portable
Insects are attracted and killed by the insect zapper high voltage metal grids
Easy to install
Hoont Indoor Powerful Plug-in Mosquito and Fly Trap
This insect killer is safe and hygienic to use. It works in such a way that the insects are lured to the device by the bright UV light, once they are around the device they are sucked by the fan which is situated in the device. The beautiful thing about this device it gets rid of irritating insects quickly and safely.
The device does not produce zapping sound and does not require high-voltage electricity.
It is very safe to use. You can use it around areas with kids as well as pets.
This device is well designed with high-quality products. Its LED bulb is long-lasting and does not require replacement.
More about the product:
Perfect for home use, kitchens, office, restaurants, hospitals, schools, etc. or for commercial purposes
It is highly effective for areas of up to 500 sq. feet!
Requires no maintenance
Easy to use
Easy to clean or remove the trapped insects
Very effective
Bright ultraviolet LED bulb that insects are irresistible to
Non-Toxic and Odor Free
Conclusion
The best way to get of insets is to get a very effective insect killer. Hope you have managed to select one device among the best insect killer for outdoors above.