Best Hair Growth Products for Women & Men: Losing hair is natural in both men and women. This can be attributed to a number of factors, it can be due to due to hereditary factors, a health condition, dying and styling too often, or any other factor. Hair loss can happen to anyone. There are a number of hair products that can make your hair better or effective ways to slow down and reverse hair loss.
But
What is the best product for hair growth?
Let's find out!
On this page, we will cover the best hair growth products for men and women. We have written down the best hair growth product reviews for you.
Best Hair Growth Products for Women & Men
Below are some of the best hair growth products that you can use to enhance healthy hair.
Best vitamins for faster hair growth
Adding some Vitamins to your diet can enhance or make your hair grow faster, longer, and stronger. Find some vitamins you can use.
Biotin (High Potency) 5000mcg Per Veggie Softgel; – High-Quality Hair Growth Product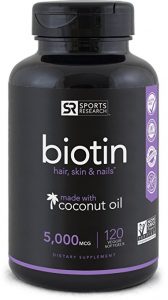 Biotin is a B-complex vitamin that will boost your metabolism and help your body produce keratin.  Keratin is essential for healthy skin and hair.
Biotin features High Potency Biotin 5000iu in cold-pressed Organic Coconut Oil
It does not contain preservatives, no soy, no GMO products, stearates, or gluten.
It promises a 90-day Money-Back Guarantee. If 90 days pass without any changes, return your Biotin for a full refund of your purchase price. Therefore it gives you guaranteed hair growth.
Ingredients
Biotin (as d-Biotin USP)
Extra Virgin Coconut Oil
V-gel Capsule (Tapioca, Vegetable Glycerin, Organic Bees Wax, Purified Water).
Directions
Take 1 Veggie Liquid Softgel daily with a meal or as directed by a healthcare professional
Find: Best Shampoo for Hair Growth and Thickening
DrFormulas Hairomega 3-in-1 DHT Blocker with Biotin Supplement for Hair, Skin and Nail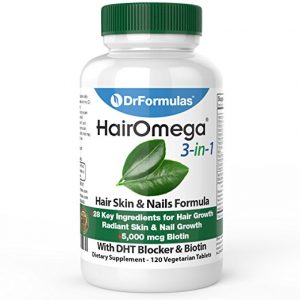 If your hair is looking dull and lifeless or is thinning in patches, this shows you may not be getting the essential nutrients your body requires to keep yourself healthy. Get DrFormulas HairOmega 3-in-1 which not only supplies vitamins for hair loss and healthy growth but also nutrients to improve the feel and appearance of your skin and nails.
Dr. Formulas Hairomega is an all-inclusive combination of DHT-blockers with nutrients that encourage hair growth. The product contains its own DHT-blocker plus Biotin B-Complex, Vitamin A, Vitamin C, Silica, MSM, and Zinc.
What do all these ingredients do?
DHT Blockers: They promote hair growth with the proprietary herbal DHT blocker which blocks DHT from inhibiting hair growth, giving them a new lease of life and boosting your confidence.
Silica:  (silicon dioxide) helps support connective tissue health including hair, skin, and nails.
Biotin: It increases hair strength, may reverse hair loss, and is often recommended by dermatologists for the initial treatment of hair loss.
Zinc: Zinc is vital for healthy, young-looking skin and prevents the scalp from becoming dry and flaky.
Grape seed extract: Support healthy circulation and the flow of nutrients to the hair follicles of your scalp.
Vitamins C and E: Promote the production of collagen which improves the structure of the skin, and helps reduce the effects of aging.
B vitamins: Keep your hair strong and looking lustrous and healthy.
Red clover: Support the balance of your hormones for healthy, ageless skin.
Beta-sitosterol: Support your immune system and keep your hair, skin, and nails healthy all year round.
Cysteine and MSM: Supports the production of hair structural components called keratin and disulfide bridges.
Dr. Formulas recommends taking two tablets in the morning and two in the evening for the best results.
Find: Top Rated Hair Straighteners
Best hair growth Laser devices
Find laser hair growth devices that actually work. These are the best-proven hair growth products
iRestore Laser Hair Growth System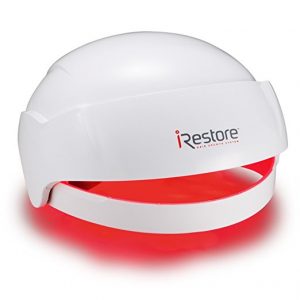 The iRestore Laser Hair Growth System is FDA-cleared to treat hair loss for both men and women. Low-level laser therapy is a non-invasive, safe, and clinically proven way to stimulate hair follicles to grow thicker and fuller hair.
The iRestore Hair Growth System uses clinical-strength laser technology to treat balding, thinning hair, and receding hairline.
A study shows that 100% of users grew hair and experienced significant hair growth. The average increase in hair count was astonishing at 43.2% during the 4-month study.
How Irestore laser hair growth system works
The lasers have been regulated to the optimal wavelength (650nm red light) which is said to promote hair growth. Its 51 medical-grade lasers and LEDs radiate light energy that is absorbed by the hair follicles to enhance cell metabolism rate and reactivate follicles to stimulate hair growth.
Why Use Irestore hair growth system

iRestore is safe and drug-free with no negative side effects. It is a must-have for anyone who wants to grow more hair or improve hair volume.
iRestore guarantees 100% satisfaction. 6-month 100% money-back guarantee
Using iRestore's clinical-strength laser technology, you will be able to grow thicker, fuller, and healthier hair; you can use it on its own or with other hair loss treatments.
Grow your hair with his hair growth laser light device
iGrow Laser Hair Growth Helmet
iGrow Laser Hair Growth Helmet: Restoration & Regrowth Treatment System for Hair Loss – Natural Thinning, Balding, and Alopecia Solution for Women and Men – FDA-Cleared Low-Level Laser Device
iGrow is a low-level laser hair regrowth system for those who have thin and thinning hair. It utilizes both red lasers and LED light diodes. The iGrow's proprietary hair rejuvenation technology is extremely effective.
The device is a success; it will offer you thicker, fuller, and healthier hair. It of one of the best hair growth lasers to have.
With just 30 minutes each day,  iGrow can help stop the balding process for thick, healthy hair that looks and feels great.
This Product that Promotes Hair Growth is Clinically Tested, In 2 separate peer-reviewed clinical studies, it shows that iGrow increased hair count over 16 weeks by 35% in males and 37% in females. iGrow is also FDA 501 cleared as a safe and effective medical device.
Best Hair Growth Serum
If you are searching for the best hair growth serum, you can try the below products
Cherioll Hair Growth Serum
This Hair Growth Serum will stimulate new hair growth and treat thinning hair, to make it look thicker and fuller.
It is also able to prevent hair loss by providing the nutrition required to the root to be able to repair damaged hair and restore the vitality of hair.
More about the product:
Make hair follicle nourishing and active
Suppress hair becomes greasy.
Helps improve the condition of the hair on regular use.
Made from natural ingredients
Grow Gorgeous Hair Density Serum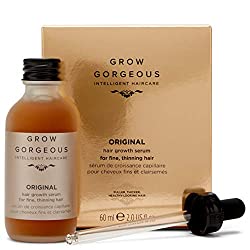 The Grow Gorgeous hair density serum is a distinctive product well formulated to provide your hair growth.
The hair growth serum contains a complex blend of seven technologies that have proved to help your hair to look thicker, fuller, and longer, just within the first week of use.
The product is infused with hyaluronic acid which moisturizes the scalp.
Grow Gorgeous hair density serum also contains a bio-active pea sprout complex,  and a bio-active complex of Chinese skullcap, wheat sprout, and soy sprout that helps to activate and improve hair density.
Ultrax Labs Hair Plush
Ultrax Labs Hair Plush Serum is well-designed to bring out the best in your hair.
The product is able to increase the thickness of each hair strand to give you a fuller and thicker-looking head of hair.
More about the product
Thickens Hair with Advanced Leave-In Caffeine Thickening Serum
Highly Effective
Fullness and thickens the hair.
Safe and Effective for both men and women
It boosts and speeds up the production of New Hair Growth.
Best Shampoo for Hair Growth and Thickening
There is also some best shampoo for hair growth and thickening. Shampoos will stimulate new hair growth.
Using special hair shampoos will make your hair beautiful, healthy, and strong.
PURA DOR Anti Hair Loss Shampoo, Effective Solution for Hair Thinning & Breakage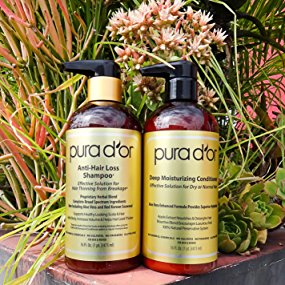 This shampoo contains PURA D'OR's DHT blocker formula. The DHT is a hormone that causes hair loss and therefore this shampoo reduces the DHT so that your hair doesn't thin and fall out so fast. The shampoo keeps follicles healthy.
PURA DOR Anti Hair Loss Shampoo contains a blend of 17 key active ingredients which include Aloe Vera, Argan Oil, and Red Korean Seaweed which help reduce hair loss due to breakage.
This shampoo is a USDA Biobased Certified Product, Selective Certified Organic Ingredients, No SLS. No Parabens. It does not contain Harmful Chemicals. It is gluten-free, Cruelty-Free, and Hypo-Allergenic.
It is formulated with Aloe Vera and Red Korean Seaweed to offer added protection against hair thinning.
The shampoo gets to the Root of the Problem. This invigorating blend of organic extracts and essential nutrients fortifies and energizes hair from roots to tips, decreasing hair loss due to breakage
How to Use PURA DOR Anti Hair Loss Shampoo
Gently massage 3-5 pumps of shampoo into hair and scalp
Leave on 2-Minutes for deep penetration
Repeat Steps 1-3 with Conditioner
Use Daily. Results typical in 3 months.
PURA DOR Anti Hair Loss Shampoo recommends at least three months of daily use to see the best results.
Art Naturals Organic Argan Oil Hair Loss Shampoo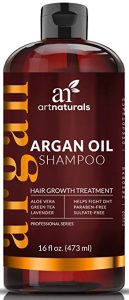 Art Naturals Organic Argan Oil Shampoo Hair Growth enables you to re-grow your hair.  It is Infused with regenerative argan oil, white willow bark, aloe vera, rosemary, burdock root, and thyme, which stimulates cell renewal and healthy growth as it revitalizes hair follicles and supports a healthy scalp. The result is amazing. You will have thicker and shinier hair!
This hair loss shampoo also fights male pattern baldness with natural botanical oils and extracts. The shampoo aids in restoring thinning and dull hair. It also helps prevent further hair loss.
Nizoral A-D Anti-Dandruff Shampoo

Nizoral A-D Anti-Dandruff Shampoo fights dandruff outbreaks. It also contains Ketoconazole 1% which controls flaking, scaling, and itching
If you are facing dandruff outbreaks, fight them with Nizoral A-D Anti-Dandruff Shampoo. Use it just twice a week in between your regular shampoos to control dandruff.
Ultrax Labs Hair Surge | Caffeine Hair Loss Hair Growth Stimulating Shampoo

This hair-stimulating product is a highly Effective Micro Blend Caffeine shampoo technology. It is one of the top-rated shampoos for Hair Regrowth Stimulation. It contains powerful caffeine compounds that have been shown to reduce hair loss, stimulate hair growth, and block the effects of testosterone within the skin
Recover your hair with Ultrax Labs Hair Surge Caffeine Shampoo
Hair Surge shampoo has been carefully formulated to work as a complete delivery system, providing the right ingredients to your hair follicles and making sure they stay there.
Benefits
Easy to use
Effective hair recovery formula
100% satisfaction guarantee
Helps give you hair that you can be proud of
Active Wow Argan Oil & Organic Botanicals Anti Hair-Loss Shampoo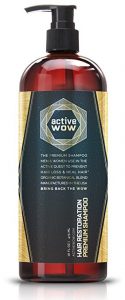 This shampoo has been tested and has a proven formula that promotes the natural hair growth mechanism on your scalp to treat chronic hair loss.
Its price is affordable. The shampoo is made with a breathtaking combination of argan oil, caffeine, biotin, and pumpkin seed extract.
In a matter of weeks, it gives you the best results you are looking for.
Best Brushes for Damaged Hair
Beyond 100 Naturals Bamboo Paddle Brush
This bamboo paddle brush exfoliates dry, scaly scalps, stimulates blood flow to strengthen hair follicles, and naturally helps reduce dandruff.
Boar Bristle Hair Brush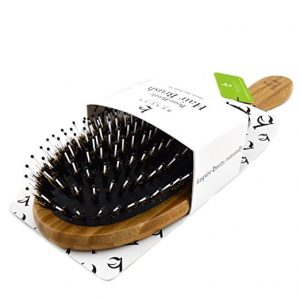 Boar bristle brushes create healthy, shiny locks and prevent breakage of hairs and damaged split ends that are frizzy or unmanageable.
It is very stimulating to your scalp and makes you feel nice as you apply the real hair growth products.
It is perfect for men and women
Glide Thru Detangling Brush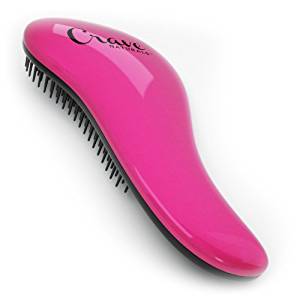 The Glide Thru Detangling Brush has firm, quality bristles that will not lose their shape! Its unique cone-shaped plastic bristles work to separate the hair sideways instead of down, gently unraveling even the toughest tangles.
Why Glide Thru Detangling Brush:
It's pain-free
Detangles with ease
Kids love it!
Massages your scalp to promote hair growth
Minimizes breakage, split ends & hair loss
Use on wet or dry hair
Smoothes the cuticle layer increasing shine
Best Hair Growth Products for Women and men
Hope you have been able to find the products that promote hair growth above
Best Hair Growth Product Buying Guide
What Is Hair Growth Product?
Hair growth product is a product that speeds up the growth of your hair, retains the hair you have, and at the same time makes your hair appear thicker and fuller. Getting the intended result while using hair growth products can take some time. You are always requested to follow the instructions.
How much hair loss is normal?
Research done shows, it is normal to lose 50 to 100 hairs every day, in some cases, it goes up to 150. Oh! That's too much. It sounds a lot, but keep in mind that we have a total of between 90,000 to 150,000 hairs on our heads. When we brush our hair daily, we rarely notice losing this amount of hair.
What causes hair loss?
Hair loss can affect your scalp or your entire body.  There are a number of reasons why you might be losing your hair.
Losing some hair in both men and women is completely natural.
Causes of hair loss include;
Heredity
Hormonal changes
Medical conditions or medications.
Skin problems like psoriasis
Illnesses like anemia and thyroid disorders
Sudden weight loss
Stress
Chemical products like dyes
Genetic conditions like androgenetic alopecia
Menopause
Environmental conditions
Pregnancy
Over styling
Malnourishment or lack of essential vitamins
Too much Vitamin A
Protein deficiency
Autoimmune diseases
Male pattern baldness
Anemia
Hypothyroidism
Vitamin B deficiency
Chemotherapy
Aging
When you are having hair loss, it's good to identify the cause of your hair loss so that you can easily treat it correctly. Sometimes it's good to visit your doctor for further consultation to help identify what causes hair loss.
What is the best way to prevent hair loss?
There are a number of ways to prevent hair loss. To prevent hair loss you will need to get to the main reason of what is causing the hair loss. The earlier you get to know the cause, the better the chances of preventing or reversing the hair loss.
You can prevent hair loss by Topical Treatments such as using essential oils, hot oil treatments, rubbing your scalp with garlic juice, ginger juice, or onion juice; Lifestyle Changes such as Include more high-protein foods in your diet; and Herbs and Supplements