Discover the Best Airbrush Makeup System. Women are slowly turning away from the Traditional foundation makeup airbrush makeup kits as the traditional way leaves brush marks on the skin. The new beauty way of applying the makeup provides even coverage, gives you a new look, makes you feel nice and makes you look younger.
Airbrush Makeup System Kits or this technology will reduce the fine lines, the acne marks and the signs of old age.
The airbrush system can last for up to twelve hours depending on the brand, quality of makeup used and expertise in application. Oh! This is perfect as you don't need to worry about retouching and crease formations.
Airbrush systems has addressed many issues that women used to face, it faces time, and makes you look awesome. Find the best airbrush makeup review below
Best Airbrush Makeup Kit for Home 2020

Get the best airbrush makeup kit for home use today. Produce that flawless result you have ever wanted, feel light on the skin. These airbrush makeup will provide a fine coverage that usually lasts for up to twelve hours or longer.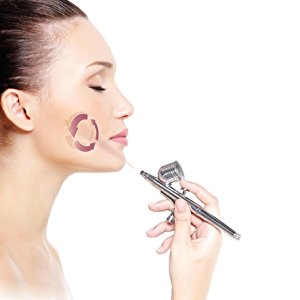 Top Rated Airbrush Kit for 2020: Best Airbrush Makeup System
Many women usually ask, what is the best airbrush? We are going to review the Best Airbrush Makeup Kit below. There are many brands of airbrush makeup to choose from.
The Original: Dinair Airbrush Makeup Starter Kit
Dinair Airbrush Makeup Starter Kit will give you that professional make up you need at home. The brush applies flawlessly while still making you look natural. This makeup airbrush has been used by celebrities for over thirty years. There is no doubt that its one of the best airbrush makeup system kit.
Choose the best from dinair's foundations, as they are water-resistant, silicone-free and paraben-free. They are also good for all skin type.
Why is Dinair the Best makeup airbrush kit?
Dinair's foundation formula is water resistant
Silicone free
Paraben free,
Not tested on animals.
Great for all skin types
What Dinair Airbrush Kit Includes:
Three Shade Medium Tone Foundations. Shades are Golden Beige, Honey Beige, and Dark Golden Beige. Golden Beige
Three multi-purpose shades of ¼ oz. Dark Peach Glamour for lips or blush, Light Smoke Glamour Highlighter or Eye-shadow, and Light Bronze Shimmer for Bronzer or Eyeshadow.
One Moist and Dewy Natural Facial Moisturizer(3oz): lightweight moisturizer made from olive extract which helps soften skin while giving it a dewy glow.
One Airbrush Silicone Grip, Cleaning System
One Airbrush Cleaner Solution (4oz)
One CX Pro Airbrush continuous Flow
One Pro Compressor 1-Speed
One Power Adapter US plug
One Air Hose 6ft long
One Instructional Guide
Also find: Best Non Chip Nail Polish
Art of Air Professional Airbrush Cosmetic Makeup System
Art of Air Professional Airbrush Cosmetic Makeup System is best for all skin types. It makes it possible for anyone to create a flawless look, just like a magazine cover look. This is one of the best airbrush foundation in the market.
This Airbrush makeup is one of the best as it uses the power of air, to generate tiny particles of weightless makeup enabling you to customize the right amount of coverage you need, giving you that flawless skin in minutes.
The Art of Air Cosmetic kit is the perfect for anyone. No application experience is required as it comes with a guide. Add it on your wardrobe today.
This kit enables you to add the thin and even layers, these results to makeup that will not only sink into wrinkles and fine lines but also give you all day long makeup.
Beauty Benefits
It's natural and lasts all day
Create a sheer to full coverage
Ability to perfectly match to your unique skin tone
Application takes less than 1/2 of the time compared to traditional makeup
Art of Air's Airbrush Foundation Conceals
Blemishes
Redness
Age Spots
Wrinkles
Acne
Birth Marks
Freckles
Fine Lines
What the Kit Includes:
Super mini airbrush compressor which has a fully adjustable airflow control settings, six foot push on rubber airbrush hose and airbrush holder.
A professional precision single-action gravity feed airbrush with a 0.4mm tip and 1/16 oz cup. The airbrush is designed to give an ultra fine mist of makeup, at the same time enabling you to achieve a flawless and soft natural complexion.
A Fair to Medium Tone Makeup Foundation: Sand, Golden Olive, Honey, Suntan Glo, Buff Beige, Moca
An Anti-Aging Moisturizing Primer
Tropical Bronzer – A radiant enhancer for eyes and cheeks
Pink Papaya Blush – which is pigmented to achieve a natural healthy looking color that immediately brightens your complexion.
Pearl Shimmer Highlighter
An Airbrush Cleaner (4oz Bottle)
A Deluxe Carrying Bag
Also find: SNS nails
Photo Finish Professional Airbrush Cosmetic Makeup System Kit
Photo Finish Professional Airbrush Cosmetic Makeup System Kit is best for home users and professionals. The airbrush makeup kit was designed with the professional makeup artist in mind. It it's also easy to use for home use.
The airbrush is designed to provide an ultra fine mist of makeup, enabling you to achieve a flawless and a soft natural complexion. Best for all Skin types
What the airbrush makeup kit includes: –
6 Foot Push on Rubber Airbrush Hose and Airbrush Holder
Mini Airbrush Compressor with Fully Adjustable Airflow Control Settings
It operates at 12V DC with a 110V AC plug in Adapter
A Professional Precision Single-Action Gravity Feed Airbrush with a 0.3mm Tip and 1/16 oz Cup.
Fair to Medium Tone Makeup Foundation: Golden, Fairly light, Medium, Medium Beige, and Light tan
Neroli Anti-Aging Moisturizing Primer
Concealer
Soft Mauve Blush
Pearl Shimmer Highlighter
Silica Finishing Powder
Deluxe Carrying Bag
More about the makeup airbrush kit
Oil-free
Mineral based
 NON-Harsh Preservatives
Makeup lasts long
Photo Finish airbrush makeup can last for up to twenty four hours without smearing, fading, running, or caking.
Water resistant and smudge proof
No animal testing , no alcohol or harmul Parabens
Mineral Air Complexion and Blush Kit | Flawless Mineral Foundation & Blush Application – Medium
Mineral Air 2-in-1 Professional Airbrush Makeup Kit
Mineral Air 2-in-1 Professional Airbrush Makeup Kit will allow you to achieve that beautiful look that stars and celebrities have enjoyed on the red carpet for years. If you have not yet made a decision, Mineral Air Professional Airbrush Makeup Kit is the best for you as it will give you a flawless foundation in seconds
This is a Professional Makeup Airbrush just meant for your skin. It is compact, Lightweight and Easy to Use.
This kit is good for women who are always on the move.
More about the product:-
It combines Pure Mineral Pigments
It is compatible with all skin types and ethnicities
No Paraben, No Talc, No Phthalate, No BHT, No BHA, No Synthetic Dye and it is also Gluten Free
The applications can last up to 10 Hours
Give your skin a seamless coverage in no time.
Removes signs of aging, as well as hides your permanent tattoos
Does not irritate the skin
Includes cordless airbrush makeup gun, a mineral airbrush makeup foundation and a USB cord
What it includes:-
A makeup bag to let you carry it everywhere
A primer
A concealer
Hydrating serum
Pure mineral makeup
Tyrellex Cake Airbrush Kit with Adjustable Flow Control & BONUS Moisture Trap
Tyrellex Cake Airbrush Kit with Adjustable Flow Control and BONUS Moisture Trap come without makeup. They assume you can buy your own brand and taste separately.
What the product includes:-
Airbrush
Air Compressor
Moisture trap
Air hose
AC Power Adaptor.