Discover Yamaha YPG-535. On this page we are going to have a look at Yamaha YPG-535 Review and see what makes it tick.
The Yamaha YPG-535 88 key is a portable grand piano keyboard from Yamaha. It is one of the most popular keyboards among musicians as it comes equipped with a vastly realistic key action and grand piano sound. You will truly love this ypg 535 88 key piano.
The first thing in YPG-535 review is that it is very attractive; it comes with a backlit LCD display which comes with many features that allows you to use the piano for a number of different playing styles and applications.

Yamaha YPG-535 Review 2020
We will look into Yamaha YPG-535 review features, and determine if it's worth purchasing on the basis of the features it has.
Graded Soft Touch Keyboard
Yamaha YPG-535 88 Key Portable Grand Keyboard is more like a real piano, its keys are amazing to touch and play. The higher keys are designed in such a way that they are lighter and the lower keys are heavier. All in all it gives you a softer touch of a digital keyboard. It is best for beginners who want to learn and practice.
Realistic Sounds
In just a push of a button, you will be amazed on the quality of the sound. Yamaha has perfected the art of producing sweet and cool voices for its pianos. When you touch the 88 Graded Soft Touch keyboard it delivers extremely natural and dynamic sound. Let the sound come alive with Yamaha YPG535.
Amazing Voices
This keyboard produces a massive palette of acoustic as well as electronically amplified instrument sounds. It enables you to capture the natural presence, expression, resonance, and the vibration of the actual instrument.
Song Arranger
This digital piano, apart from the default style, it allows you to select any style to play the song. This is made possible with the Easy Song Arranger feature. You can easily play a different song with a different tune and match on very well. It also enables you to change the song's melody voice and the keyboard voice for a total change of image.
Performance Assistant Technology
This feature enables you to play along with a song on the instrument's keyboard to produce a perfect performance. You do not need to be perfect on the keys, even if you play wrong notes! What you need is to play on the keyboard in time with the music. You will sound more like a pro.
Music Database and External Files
The digital piano comes with a Music Database which enables you to select the style you need to play. All you need is to select and the panel settings will automatically be adjusted for the perfect combination of sounds and style. It also allows you to transfer Music Database files from the computer or USB flash memory device so that you can use them on the piano.
USB
The piano comes with a USB that enables you to transfer files, upload software, play you're your recorded computer work and do much more.
Portable Grand Button
With Yamaha's Portable Grand function it is easy and fast to play this. It has one a grand button that brings all your settings in one place.
Yamaha Education Suite
The piano comes with some of the inbuilt advanced set of helpful learning tools to help you along the way as you learn to play the keyboard. You can continue teaching yourself after training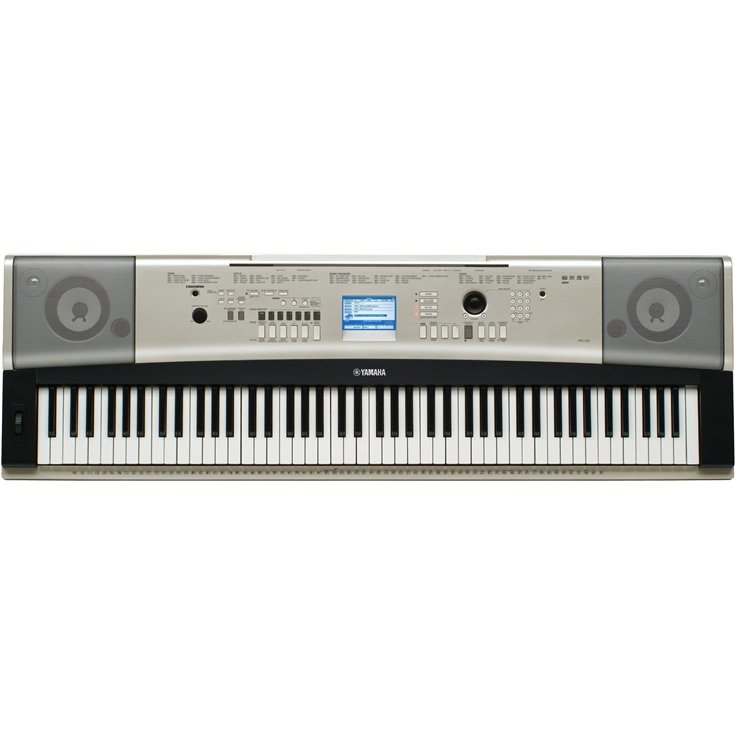 More about Yamaha YPG-535
Able to produce an astounding total of 500 different voices
The sound quality of the YPG-535 is impressively realistic
Comes with quality speakers
Equipped with a Graded Soft Touch keyboard
Comes with Yamaha's Advanced Wave Memory technology
Pros:
Comes with a graded and weighted keyboard
It is portable digital piano
Comes with a wide range of sounds and settings to choose from
Has a very realistic sound quality
Check Out Our Top 10 Best Digital Pianos