Discover Yamaha YDP 162.  Find Yamaha YDP 162 Review below. This piano is most popular among many piano players. It is said to be one of the best digital piano in Yamaha's popular Arius series digital pianos
YDP162 digital piano comes with amazing features that a player needs, quality sound, realistic playing not forgetting the classy design.
| | | | | | |
| --- | --- | --- | --- | --- | --- |
| | Keys | Polyphony | Dimensions | Weight | Price |
| Yamaha YDP 162 | 88 | 128 | 1,357mm x 845mm x 422m | 42kg | Check on Amazon |
Yamaha YDP 162 features are very impressive which are well taken into consideration towards beginners and experienced musicians. It is suitable for a variety of experience levels.
Why choose Yamaha YDP 162?
The moment you touch this piano you will really love it. It will be love at first sight. Its many features will fascinate you. As your skill level increases, you will need something that matches your status. That's why Yamaha YDP 162 comes in. The keyboard is well built for a more serious playing.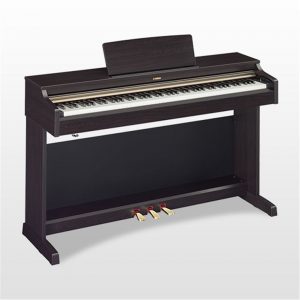 Yamaha YDP 162 Features
Authentic tone
This piano is suitable for both advanced players and beginners. The Graded Hammer action with Synthetic Ivory Keytops is weighted to match the resistance of hammers in a grand piano.
This gives you the feel you would experience from acoustic piano. It is designed in such a way that you are able to play for longer periods without any problem.
Piano quality
The quality of the piano has not been compromised. It utilizes the PureCF Sound Engine. This recording contains a number of dynamic levels from pianissimo to fortissimo.
Optimal tone at any volume level
Contains an Acoustic Optimizer which enables you to adjust the acoustical flow, the overall sound is amazing
Also find: Williams Allegro 2
Capture your performance
The piano contains a built-in 2-track song recorder which enables you to capture your performance and replay it to hear your progress. With this keyboard you can also record the right and left hands separately.
More about the product
You can combine two Voices together for an inspiring new playing experience.
It contains 128-note polyphony which enables you to play more
50 classic piano songs are provided in the built-in song memory
Contains internal speaker system which ensures that the sound is full and as loud as you need it to be.
YDP162 comes with an Acoustic Optimizer system that adjusts the acoustical flow
Built-in two-track recorder
duet mode,
three pedal system
headphone jack
10 demo songs
10 preset voices
50 preset songs
900KB of space for users to add their own songs
10 separate drum patterns
USB and MIDI connectivity
Yamaha YDP 162 Specs
Dimensions: 1,357mm x 845mm x 422m
Weight: 42kg
Keyboard
Number of Keys: 88
Touch Sensitivity: Hard, Medium, Soft, Fixed
Number of Pedals: 3
Half Pedal: Yes
Piano Sound: Pure CF Sound Engine
Number of Polyphony (Max.): 128
Operation Guide