Discover Yamaha PSR E343. On this page we are going to look at Yamaha PSR E343 Review. Is this digital piano best investing?  Find out on our PSR E343 Reviews below.
Yamaha PSR E343 comes with stunning variety of voices and styles opening the door to a world of musical satisfaction. Sharpen your technique with the in-built lessons from Yamaha.
The Yamaha PSR E343 will offer you a lot of digital extras to aid you diversify your playing. It also has an AUX and USB port which enables you to connect with endless opportunities and different materials and applications.
With Yamaha PSRE-343 you can also connect to your iPhone or iPad. This gives you the control you need; control the sound with your phone.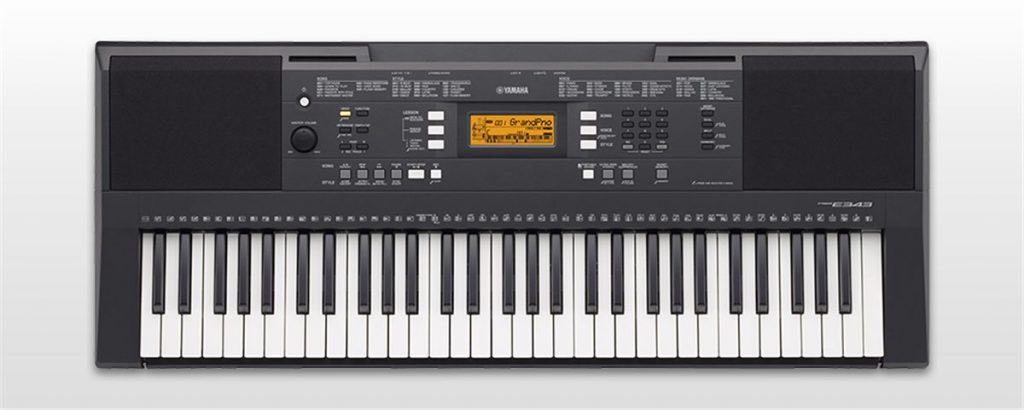 Yamaha PSR E343 Features
Sound Quality
Yamaha PSR E343 produces quality sound. The Ultrawide Stereo Effect creates a stereo image which is wider than the speakers with Yamaha's digital imaging technology. The sound creates is best for performances.
It also contains number of digital effects for instance the Master EQ settings that allows the user to edit the sound to their own imagination. Optimize the overall sound with different EQ settings on the instrument, and also tailor the overall output for optimal sound in different listening scenarios.
Yamaha PSR E343 Key Action and Realism
Yamaha PSR E343 keys are not weighted; therefore it does not have the realism that other digital pianos have. Although, it gives touch sensitivity in the keyboard, which enables you to play expressively as you would like.
Aux line input and Melody Suppressor
The distinctive Melody Suppressor function represses the melody line of your favorite songs enabling you to play along. All you need is to connect to any device with a line output; it can be your computer, mobile device, mixer or another keyboard to the AUX-in port. Listen yourself play along with your favorite singer.
Also find: Williams Allegro 2
Yamaha Education Suite and "Keys to Success" Lesson Functions
Yamaha PSR E343 comes with Yamaha Education Suite lesson functions, which gives you the ability to practice at your own free time. The Keys to Success enables one to practice preset songs.
Connection with iPhone, iPad and iPod touch
You can connect to your iPhone, iPod or iPad
Pros:
Lightweight and portable
Supports over 500 voices and 136 styles.
Touch sensitivity
Cons:
For it to be portable, it relies on 6AA batteries
There are only 61 keys
Check Out Our Top 10 Best Digital Pianos