Discover Yamaha NP11. We are going to look at Yamaha NP11 Review; find out what makes it tick and why it's the best to buy. On this article we will look at its main features which will guide you in making a decision.
The Yamaha NP-11 is a 61-key model; it takes the Piaggero's signature concept of Light, Slim, and Compact. The piano features high-quality voices as well as it expresses Piaggero's piano sound in a more realistic way.
NP-11 is well designed and contains user friendly functions. It also one of the best and affordable quality keyboard in the market. Its functions and portability makes it a darling to those seeking a cheap portable keyboard with quality design and sound. It is best for beginners and experts.

Yamaha Piaggero NP11 Features
Slim, Light and Compact Design
Piaggero NP-11 piano is slim and light. It has a compact design which makes it easy to carry around.
Piano-style keyboard
It is a 61-key piano style keyboard. Not bad especially if you are a beginner and want to learn playing the keyboard.  Get Yamaha NP 11 Keyboard.
Advanced Wave Memory Stereo Sampling
Yamaha NP-11 has not been left behind on the Advanced Wave Memory Stereo sampling. It facilitates it to generate an excellent wave data that is the same as the sound and expression of the original instrument. It does this by using advanced digital technologies. AWM creates a unique and rich sound by using multiple waveforms.
Built-in Stereo Speaker System
It uses a highly efficient stereo amplifier which generates a solid sound
Piano Preset songs
The piano comes with preset songs which you can use to practice or listen to.
Battery Power or AC adaptor
Yamaha NP-11 can be used with an AC adaptor
Auto Power Off mode
It comes with a function that turns off the power automatically if the keyboard has not been used for a set amount of time order to avoid using power unnecessarily.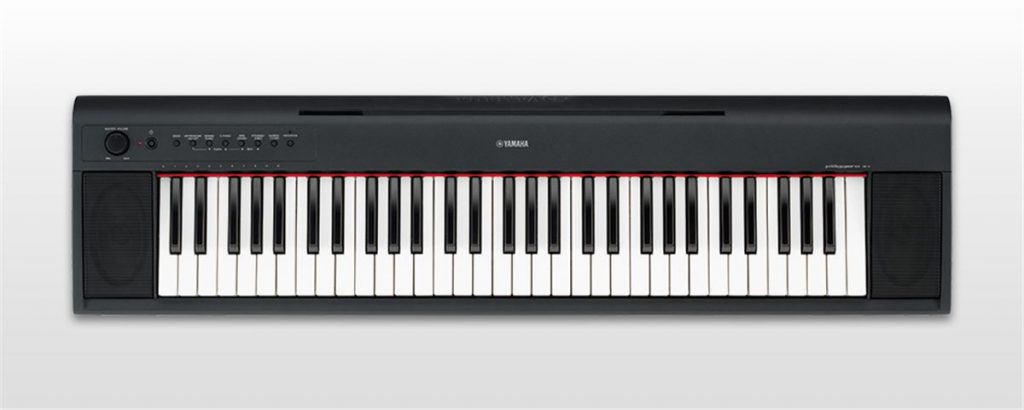 More about Yamaha Piaggero NP11
61-key piano-style keyboard
Piano-style keyboard
Advanced Wave Memory Stereo Sampling
Affordable quality keyboard
NP11 has a rich and full sound quality.
Does not sacrifice any quality
Is a great digital keyboard
Yamaha NP-11 Specs
Dimensions: 40-13/16″W x 4-1/8″H x 10-1/4″D (1,036 x 105 x 259 mm)
Weight: 9 lb., 15 oz. (4.5 kg)
Body color: Black
Number of keys: 61
Piano-style keyboard
Touch response: Yes
Tone generating technology: AWM Stereo Sampling
Polyphony (Max.): 32-note
Preset Voices: 10
Effects types: Reverb (4 types)
Dual/Layers: Yes
Number of preset songs: 10-voice and 10 piano demo
Demo/help demonstration: 10-voice and 10 piano demo
Metronome: Yes
Tempo Range: 32 to 280 BPM
Transpose: -6 to 0, 0 to +6
Tuning: Yes
Connectivity: DC In 12V, 1 x headphone
Sustain Pedal: Yes (half pedal)
MIDI: In/Out
Amplifiers: 2 x 2.5W
Speakers: 2 x 4-3/4″ x 2-3/8″ (12cm x 6 cm)
Power Supply: Adaptor [PA-130 (see #336005)] or batteries (Six "AA" size, LR6 or equivalent batteries) Adapter and batteries not included
Power consumption: 20W
Battery Life 6 hours and more
Pros:
High-quality affordable keyboard
Portable
Weighs about 13.8 pounds
Comes in a slim and compact size
Has a soft touch keyboard
Plenty of useful features