Discover Yamaha DGX 660. DGX-660 will enable you to play, sing and share the music. On this page we are going to look at Yamaha DGX 660 Review.
Yamaha DGX-660 is a new digital piano model from Yamaha which features a variety of interactive features. Playing, Learning and sharing music has never been this fun for everyone with Yamaha DGX660.
The new Piano gives you more room features to choose from. This Portable Grand lets you choose from a variety of pianos and acoustic settings create your own personal piano environment.
What amazing features? You will love DGX660.

Yamaha keyboards are known for their flexibility. With DGX660 you can now connect a microphone to sing along while you play.  You will be able to hear your voice with the digital effects via the instrument's speakers.  You can also record your performance to a USB device which you can share with your friends and family.
Yamaha DGX660 Features
USB Audio Recorder
The DGX-660 digital piano gives pianists a fun way to enhance their learning experience. It is best for all players and makes you feel what it feels like to play with a band. It comes with a built-in USB Audio Recorder that captures your musical inspirations. You can easily track your performance.
Piano Room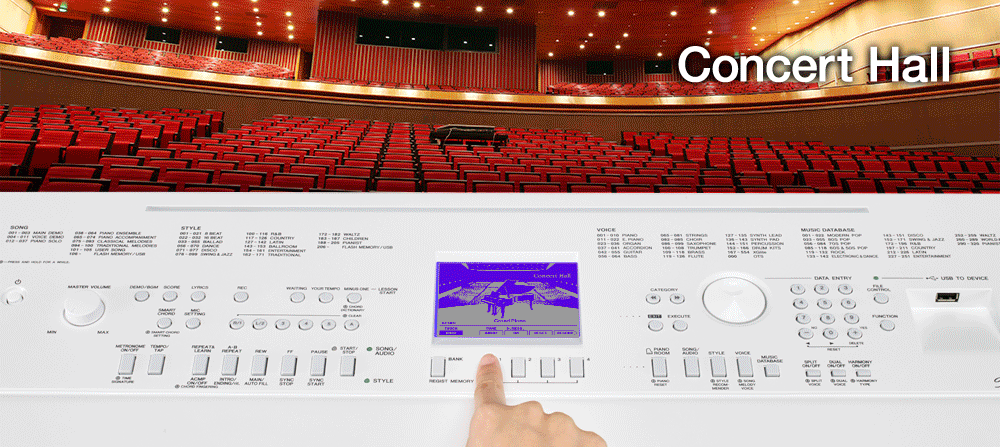 The DGX-660 provides you with a dedicated virtual space where you can choose from a variety of pianos and acoustic settings. It is more like a personal Piano Room. Here you are able to create your personalized practice or performance environment.
Sing while you play

You can sing while you play, all you need is to connect a microphone to the DGX-660 to sing along with your playing. You can also sing a pre-recorded karaoke song from Yamaha Musicsoft. You will perfectly hear how you sound though the built-in speakers.
On the score display you can view the lyrics. The piano also provodes 3 convenient presets for different vocal performance situations.
DGX660 also gives you room to create and create and save your own original microphone settings including professional reverb and chorus effects.
Go wireless with your iOS device
It comes with optional wireless adaptors which enables you to play back songs from your iOS device song library wirelessly through the DGX-660's speaker system.
Quality sound
With history of piano making, Yamaha came up with The Pure CF Sound Engine which is combined with state of the art sampling technology and piano expertise. This piano utilizes the Pure CF piano sample.  It reproduces the sound of the renowned Yamaha CFIIIS 9′ concert grand piano.
88-note weighted GHS keyboard
The Yamaha Graded Hammer Standard keyboard comes with a weighted action with heavier touch in the lower end and a lighter touch in the higher end, more like the hammers inside an acoustic piano. This is best for the aspiring pianist as it helps them builds the proper finger technique and strength so that when they perform on an acoustic piano it will be as easy as abc.
Also find: Williams Allegro 2
More about the product:-
You can record performances or MIDI songs as uncompressed to a USB flash drive using the Audio Recorder.
The clear LCD can be switched to show lyric display. It shows you notation for any MIDI song that the DGX-660 is playing.
Comes with a Style Recommender which helps you find styles quickly and easily
The chords played will make you sound more like a pro
Damper Resonance – other strings add sonic color to the notes you are playing until the pedal is released.
Yamaha DGX 660 Review Video

Yamaha DGX 660 Specs
Size/Weight
Weight: 21kg /with keyboard stand:28kg
Dimensions: 1,397mm x 146mm x 445mm
Keyboard Number of Keys: 88
Type: Graded Hammer Standard keyboard
Touch Response: Soft, Medium, Hard, Fixed
Other Controllers
Pitch Bend: Yes
Display:
Type:  Full Dot LCD
Size: 320×240 dots
Color: Monochrome
Contrast: Yes
Score Display Function: Yes
Lyrics Display Function: Yes
Voices
Tone Generation:
Piano Sound:  Pure CF Sound Engine
Damper Resonance Yes
Polyphony
Number of Polyphony (Max.): 192
Compatibility
GM : Yes
XGlite : Yes
Effects
Types
Reverb: 41 types
Chorus: 44 types
DSP: 237 types
Master EQ: 5 types
Preset
Number of Preset Styles: 205
Fingering: Multi Finger, Full Keybord, AI Fingered
Other Features:
Music Database: 320
One Touch Setting (OTS): Yes
Style Recommender: Yes
Smart Chord: Yes
Songs
Preset
Number of Preset Songs: 100
Recording: 5
Number of Songs: 6