Searching for Kawai KDP90 Review? You are on the right page. We are going to review Kawai electronic piano features, specs and find out what makes it tick from the other digital pianos
Kawai KDP90 offers you great performance. It is perfect for anyone who is on a budget looking for a digital piano with great features. With KDP 90 you will get outstanding value for your money.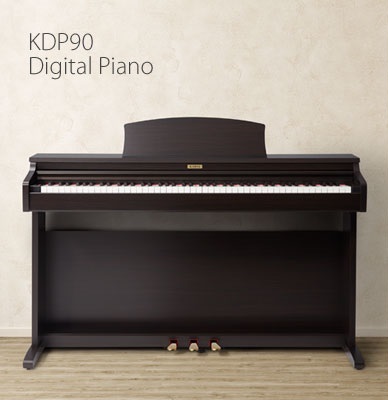 Kawai KDP90 Features
Tone
KDP90 is a unique digital piano that utilizes Kawai's acclaimed Harmonic Imaging Sound Technology. It features 88-key piano sampling technology to create an extraordinary piano sound.
Touch
Kawai is known for its touch and feel instruments. It has perfected in this art. Kawai's digital piano action is of high quality construction and gives you an authentic feel. This gives players a complete freedom in their musical expressions.
The feel of the KDP90 is terrific; this is because of the Advanced Hammer Action IV, the 88-note as well as the graded hammer action with superb feel and sensitivity.
Sliding Key Covers
KDP90 comes with built-in sliding key covers. The covers are well designed to give the keyboard the protection it needs from dust and debris when you are not using the instrument.
Grand Feel Pedal System
KDP 90 features 3 pedals – sostenuto, damper, and soft.
Metronome
The KDP90 88-key digital Keyboard offers a handy built-in digital metronome with a diversity of time signatures and adjustable tempo. These come in handy when you are practicing.
Recorder
The piano comes with an easy to use three song build in recorder. This is ideal for recording your performance or progress.

Kawai KDP90 Review Main Features:
Harmonic Imaging Sound Technology
AHAIV-F Graded-Hammer Action
88-Key Piano Sampling
15 Exceptional Instruments Sounds
192-Note Polyphony
Dual and Four-Hands Modes
Built-in Alfred Piano Lessons
Sliding Key Cover
Rosewood Finish
Grand Feel Pedal System
Built-in Stereo Speaker System
KDP90 Specifications
Keyboard: 88 Weighted Keys
Action: Advanced Hammer Action IV-F (AHA IV-F)
Sound Source: Harmonic Imaging™ Sound Technology, 88-Key Sampling
Internal Sounds: 15 Voices
Polyphony: 192 Notes
Keyboard Modes : Dual Mode, 4-Hands Mode
Internal Recorder: 3 song, 1 track recorder – approximately 15,000 note memory capacity
Speaker System: 12 cm x 2, 13 Watts x 2
Dimensions: 53.4″ (W) x 15.8″ (D) x 22.8″ (H)
Weight: 83.6 lbs.
Finish: Premium Rosewood
Pros:
Affordable
Comes with an attractive rosewood finish
Realistic
Advanced Hammer Action IV-F key action
For beginner, comes with a set of Alfred lessons to help you start learning
Cons:
Does not come with a large number of digital features